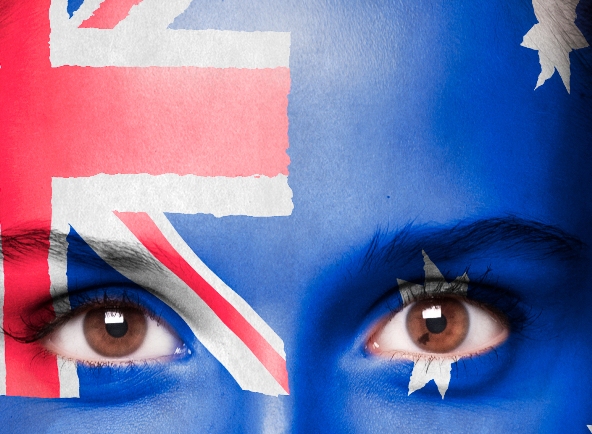 Pic. courtesy Index on Censorship
Australiais usually viewed as a liberal democracy by most measures of human freedom. The report 'From Assange to Murdoch: Australia's Free Speech Landscape' by Australian freelance journalist Helen Clark examines media freedom, an area where the country fares relatively well but as the report says is in 26th position in the Reporters without Borders (RSF) Media Freedom Index. It is not in an as enviable a position as New Zealand, its neighbour which is in eighth place.
"Outright press censorship and the highest profile cases of recent years have involved breaches of discrimination acts or incitements to hatred. Meanwhile press laws and reforms to them have been touted with scant success. Widespread internet censorship was defeated last year after Communications Minister Stephen Conroy rescinded the internet filtering scheme after five years trying to pass it," states the report.
The report looks at media freedom under the arts, legal architecture including laws governing hate speech and censorship, the internet, media ownership and a section titled 'the Assange Factor.'
You can read the report here
Jacqui Park Jane Worthington (Pic RSF)
Two directors of the International Federation of Journalists (IFJ) were detained for entering Sri Lanka illegally as the country's minister of information and the media accused them of "anti-government activity." Meanwhile, IFJ's affiliate in Sri Lanka, the Free Media Movement (FMM), used the incident to highlight media repression in the country and urge leaders of the Commonwealth who are due to hold its biannual Summit in Colombo in mid-November, to boycott the event because the Government's suppression of the media violated Commonwealth principles.
IFJ's Asia-Pacific Director Jacqui Park and Deputy Director Jane Worthington who were attending a media workshop jointly organised by FMM and IFJ were detained against their will on Tuesday, October 29 and not allowed to take their scheduled flight back to Australia, the next afternoon. They were however released later without charges and flew out on Friday, November 1.
"The IFJ believes this move by Sri Lankan officials is an attempt to intimidate and harass journalists inside and outside Sri Lanka to prevent reporting on the realities of life in Sri Lanka in the lead-up to the Commonwealth Heads of Government Meeting, CHOGM, which begins in Colombo on November 15," the media watchdog said in statement.
The Paris-based Reporters without Borders (RSF) said the two media freedom activists were "subjected to harassment by means of lengthy interrogation by defence and immigration officials and the Criminal Investigation Department (CID) for three days. Although they were accused of violating the visa regulations, the authorities have released them to fly out of the country without any charges."
The CID officers had claimed that the two media freedom activists had violated immigration laws by arriving in Sri Lanka on tourist visas although they had attended the workshop. However, "a careful look at the detailed descriptions provided on the website of the SL Department of Immigration, would reveal that there is no special visa category for journalists. But if anyone travels to Sri Lanka as a reporter, they should obtain press accreditation, which has nothing to do with any particular visa category," said RSF.
The Sidney Morning Herald reported "Any journalist coming to Sri Lanka has to obtain accreditation and these two had not done that," said Media Minister Keheliya Rambukwella, "There are clear guidelines and those have not been followed so our authorities have the right to take action." He also accused Park and Worthington of Anti-government activity, said the newspaper.
IFJ insisted, "According to the Sri Lankan Government-operated Electronic Travel Authorisation system website, attending workshops is not prohibited under the conditions of the Sri Lankan tourist visa. The IFJ is adamant that no breaches of visa conditions have occurred."
The contents of Park's laptop were apparently downloaded by sleuths said statements by both RSF and IFJ. Park was also shown a copy of a dossier of her 17 visits to Sri Lanka during over the past 15 years.
IFJ's statement also highlighted its concern for the Sri Lankan media that has long been subject to media repression that places Sri Lanka in 162nd position of 179 countries in RSF's Press Freedom Index 2013. It said, "The IFJ has grave concerns about the safety of media personnel inside Sri Lanka arising from this incident. The IFJ is also deeply concerned about the safety of media personnel in Sri Lanka over the long term, most immediately once international leaders leave the country after the CHOGM meeting ends on November 17."
New York-based Committee to Protect Journalists (CPJ) echoed IFJ's concern of Sri Lankan journalists. "People close to the FMM say that surveillance has been stepped up, and its members are taking a wait-and-see attitude toward how best to protect themselves now and in the long term," said Bob Dietz, coordinator of CPJ's Asia Programme.
The CPJ statement goes on to say "The FMM might be harassed, but that hasn't stopped them today from issuing an Open appeal to CHGOM :'The FMM earnestly hope that delegates representing democratic traditions will raise the issue of freedom of expression rights in Sri Lanka in the appropriate forums and discussions during upcoming Commonwealth Heads of Government Meeting…'"
Commonwealth leaders have come under pressure, much before the detention of Park and Worthington to boycott the Summit because of the country's abysmal human rights record including allegations of war crimes in the civil war that ended in May 2009. As of the time of writing the only Commonwealth leader who has stated his intentions not to attend is Canada's Prime Minister Stephen Harper.