Woman begs police not to attack protestors (Pic courtesy BBC)
Freedom of expression and assembly became targets of assault both in Ukraine's legislature and on the streets of Kiev, as the embattled government of President Viktor Yanukovych passed emergency legislation to criminalise libel and police attacked protestors. Over forty journalists covering the clashes were injured.
The new round of protests – after an earlier wave popular dissent, which turned violent in December – began after the Ukrainian parliament passed Act 3879 on January 16 that the Paris-based Reporters without Borders (RSF) said copied "some of the most repressive provisions of recent Russian legislation." The legislation contained provisions under which the penalty for defamation could be damages between 50 to 300 times the minimum wage, 150-240 hours of public service work and under "aggravating circumstance" up to two years in prison, said RSF.
"International experience has shown that criminalizing media offences and, even more so, making them punishable by imprisonment, helps to create a climate of intimidation that discourages journalists from tackling sensitive subjects," said RSF.
The new law also prescribed prison sentences for "extremist content" which RSF said were not defined, up to three years in prison for circulating pictures of judges, policemen and members of the Special Forces, while internet sites could be closed without a warrant. In what are very similar to laws enacted in Russia, the Ukrainian parliament also introduced provisions that would cripple NGOs that try to "influence state decisions, change government policy and shape public opinion and are foreign funded." They will have to register as 'foreign agents.'
Following the hasty passage of Bill – there was no debate – and its promulgation into law with Yanukovych's signature on January 17, all hell broke lose as a crowd of 200,000 incensed by the draconian provisions in the law took to the streets. Incidentally, the Act 3079 also bans public protests.
According to the New York-based Committee to Protect Journalists (CPJ) quoting Ukrainian media, protests turned violent on January 19 when dissenters attacked the police with stones and Molotov cocktails. In the ensuing melee CPJ said 42 journalists were injured mostly by stun grenades and rubber bullets, while some had reported being shot in the eye or leg. Some were detained and had cameras and other equipment damaged.
"Journalists in Ukraine are under attack in the street and in Parliament," said CPJ's deputy director, Robert Mahoney. "We deplore the assaults on reporters covering the protests in Kiev and call on the security forces to respect the right of journalists to work in safety. We also urge the government to repeal the laws, which give Ukraine some of the most repressive media legislation in Europe."
Among those who were assaulted and detained were Radio Free Europe/Radio Liberty's reporter Dmytro Barkar and his cameraman Ihor Iskhakov as they were filming the clashes. RFE/RLreported that its Ukrainian service was providing live-stream video of the protests when Barkar and Ishakov "were attacked by members of the elite Berkut police force. The two were separated and held for five hours without access to a phone or legal aid after being beaten and struck on the head and body with batons."
RFE/RL's Chairman Jeff Shell condemned the attack: "Attacking journalists under any circumstances is unacceptable. This was an egregious and shocking suppression of free press that left our reporters badly injured and in need of emergency medical care. There needs to be a prompt and thorough investigation."
Meanwhile the Brussels-based International Federation of Journalists (IFJ) and the European Federation of Journalists (EFJ) wrote to leaders of the European Union to condemn the violence through their respective organisations and "take all actions, including sanctions, necessary under your rules and statutes to force the Ukraine government to respect the statutes of the Council of Europe of which they are a member and the conventions and covenants which they ratified."
"The IFJ and its affiliate unions worldwide believe that the recent actions by the Ukrainian government, its Head of the Security Service, Oleksandr Yakymenko, and its Security Council, Andriy Klyuyev, are a step back from their international obligations and are aimed at instilling a climate of fear among journalists and at destroying freedom of speech, peaceful gatherings and political pluralism in the Ukraine," said the letter signed by IFJ President Jim Boumelha and EFJ President Mogens Blicher-Bjerregård.
RSFsaid the Ukraine-based International Media Institute (IMI) had a complete list of the injured went on to report that "Oksana Romanyuk, who heads IMI and who is the Reporters without Borders representative in Ukraine was again described as a 'foreign agent' – a synonym for a spy – by the state TV station 'UT1′ last weekend."
Meanwhile on Tuesday, January 21, in fresh confrontation five protestors were killed and 1700 injured reported AFP. Earlier, two anti-government activists were abducted. One of them Igor Lutensko, a civic sector coordinator, was abducted from Zhovtneva hospital in Kiev beaten and then left in a forest. He reappeared at Euromaidan with injuries later. The other, Yuri Verbytskii did not. His body was later found in the woods Ukrainskaya Pravda reported.
On Wednesday Yanukovych had talks with opposition leaders that included Vitaly Klitscho, the former world heavyweight boxing champion who called for snap elections as a way out of the imbroglio. Meanwhile, The Guaradian UK said, Prime Minister Mykola Azarov was defiant blaming the victims for their own deaths. "The participants of these disturbances cannot be called peaceful. These are criminals, who are disturbing order. I want to officially state that the victims are the responsibility of the troublemakers."
On Friday, (January 24), BBC said that Yanukovych had held talks with religious leaders and agreed to use all "legal measures" if a solution to the crisis is not found and "also promised to amend anti-protests laws rushed through parliament last week and reshuffle the government at an urgent session of parliament due to begin on Tuesday." But BBC said as talks appeared to stall protests began spreading from Kiev to the regions as regional offices were attacked by anti-government dissenters.
BBC's James Robbins prevented from speaking to Rajapakse (Pic.BBC)
Freedom of the foreign media to cover events in Sri Lanka reached a new low on Wednesday. A BBC camera crew was physically restrainedby security personnel to prevent them getting close to the country's president, Mahinda Rajapakse, to ask him questions. The incident occurred at an event associated with the Commonwealth Heads of Government Meeting (CHOGM) which Sri Lanka is hosting between November 15 and 17.
Heightened security appears to follow an incidenton Tuesday, when a journalist of UK's Channel Four television asked Rajapakse a question as the latter was getting into his car after opening the Commonwealth Business Forum. Media culture in Sri Lanka discourages reporters questioning officials and politicians except at press conferences or with an appointment.
The occurrence reflects the growing culture of intolerance of criticism and impunity in Sri Lanka. The country is ranked 163rd among 179 countries in the Reporters without Borders Press Freedom Index with journalists killed, made to disappear, imprisoned and forced to flee overseas.
"Critical or opposition journalists continue to face intense intimidation in Sri Lanka. Our research shows that at least 26 journalists have gone into exilein the past five years, which is one of the highest rates in the world. And while work-related murders have declined since 2009, the slayings of nine journalists have gone unpunished over the past decade, which is one of the worst records of impunity in the world," wrote Joel Simon, executive director of the New York-based Committee to Protect Journalists (CPJ) urging Commonwealth leaders to press Sri Lanka's president, Mahinda Rajapakse, to unshackle the media.
Meanwhile, on November 13, Channel Four journalists who were on their way to northern Sri Lanka where much of the fighting took place in 30-year civil war that ended in May 2009 were not allowed to enter the area to film. The train in which they were travelling was blocked by pro-government protestors.
"Hundreds surrounded the train and some boarded it, a witness said, adding that police made no attempt to clear the crowd. The Channel 4 television news team, which has previously reported on alleged war crimes in Sri Lanka, had to return to the capital Colombo…," said Reutersquoting Channel Four and the local police.
Channel Four is particularly shunned by the Sri Lanka government for three documentaries it made on the final months of Sri Lanka's civil war known as 'Sri Lanka's Killing Fields' that show civilians caught up in savage combat between government troops and rebel LTTE fighters. Political and military leaders of the Sri Lanka government and the LTTE hierarchy are accused of war crimes and crimes against humanity.
The spotlight on Sri Lanka from CHOGM has also shone on Sri Lanka's long history of suppressing media freedom. Among the victims is Prageeth Ekneligoda, a columnist and cartoonist who disappeared on the eve of the presidential election on January 26, 2010.
Prageeth's wife Sandaya in a piece to The Independent UK wrote, "In Sri Lanka there is almost no independent media. What are journalists there allowed to write about? Peaceful elections, new initiatives to keep the streets clean, how well the government is doing and CHOGM. When CHOGM comes to Sri Lanka there will only be positive stories for the visitors to read. Positive stories, smiling billboards and hidden secrets."
British Prime Minister David Cameron has said he will raise human rights and media freedomissues with host Rajapakse. However Sri Lanka's Media and Information Minister Kehiliya Rambukwella angrily dismissed the suggestion.
"The invitation to Prime Minister David Cameron was not based on that (raising human rights concerns).We are a sovereign nation. You think someone can just make a demand from Sri Lanka? We are not a colony. We are an independent state," Rambukwella told the BBC.
However Cameron has said he would insist on taking up the issues with Rajapakse.
CHOGM that Colombo hoped would help its leaders consolidate their badly-eroding legitimacy at home has turned out to be PR nightmare both within Sri Lanka and overseas.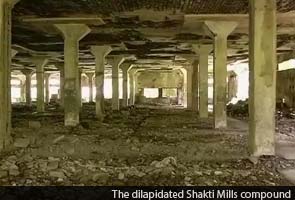 The Deserted Mill in Mumbai (Pic. courtesy NDTV)
The Indian photojournalist gang-raped while on assignment in Mumbai on August 23, fainted while giving evidence, Thursday, after identifying all four accused. BBC quoted Special Prosecutor Ujjwal Nikim telling reporters that she was "composed but 'under mental pressure.'"
The Indian news website DNAsaid, "'The rape survivor fainted during the deposition after which we stopped the proceedings and I requested the court that she be referred for medical help,' special public prosecutor Ujjwal Nikam told PTI."
The gang rape took place in an abandoned mill in Mumbai, where the survivor who interned for an English-language magazine and a male colleague had gone on assignment. The man was tied up before the woman was raped. Five persons were arrested of whom four stand trial in the court, while the fifth is being tried in a juvenile court. [See more details here]
The Mumbai episode followed the much-publicised incident in New Delhi in December, where a woman was gang-raped and killed when she was pushed off a moving bus. Following the outrage it created, the Indian government strengthened laws against sexual violence. Four persons convicted in September for the New Delhi crime were sentenced to death.
Both the BBC and DNA said, quoting the public prosecutor that the photojournalist had also identified pornographic video shown by her assailants during the assault.
On October 15, the Delhi-based NDTVquoted Nikam as saying the survivor's mother and "boss," (presumably the head of the organisation for which the survivor worked) had deposed in court.
"The accused Vijay Jadhav, Kasim Bengali, Salim Ansari and Siraj Rehman have been charged with rape, conspiracy, common intention, unnatural sex and charges under Information Technology Act. The Mumbai crime branch had on September 19 filed a 600-page charge sheet against the four accused," said DNA.
Both DNA and NDTV said three of the four accused in the case were also accused of another rape at the same place on July 31.
Rapper Klay BBJ (Photo courttesy BBC)
Freedom of expression in Tunisia, the womb of the Arab Spring, is under increasing peril with rapper Klay BBJ's six-month jail sentence for "insulting the police" with his songs, becoming the latest example. Klay's fellow-accused, rapper Weld El 15 is in hiding and did not appear in court.
Meanwhile, Zaid El Hani, editor and president of the National Union of Tunisian Journalists, could be jailed for two years on charges of defamation and "fabricating evidence" for publicly defending a journalist who was arrested earlier, also on criminal charges.
Klay BBJ, whose real name is Ahamed Ben Ahamed and Weld El 15 were sentenced to 21 months imprisonment in August for insulting the police with their songs at a concert in Hammamet, reported the UK-based BBC. Klay appealed the August sentence, but the judge while reducing it to six months did not overturn the earlier decision entirely.
The BBC, quoting AFP, said that Klay told court, "'Our songs criticise the current situation in Tunisia and the government, no more and no less. I am among the rappers most critical of the government and that is why [the authorities] are after me.'"
Weld El 15, whose real name is Ala Yaccoubi, did not appear in court last week and is in hiding since August. BBC said that he was earlier convicted for his song The Police are Dogs and sentenced to a two-year jail term in June. However, after his sentence suspended in July he was released from prison.
Meanwhile, El Hani who was ordered to be detained on criminal charges by judge on September 13, was held for three days until he was bailed out said the Paris-based Reporters without Borders (RSF). His arrest came after he accused the public prosecutor of fabricating charges against cameraman Mourad Meherzi, who the government has accused of complicity in a criminal act, when he filmed an egg being thrown at a Tunisian government minister.
El Hani, in a television interview disputed the public prosecutor's claim that Meherzi had signed a document attesting his complicity in the incident. Displaying the official papers, El Hani said contrary to what the public prosecutor had claimed, Meherzi had not signed a confession admitting to complicity in throwing the egg. The egg was thrown by the filmmaker, Nasreddine Shili.
El Hani was subsequently arrested for fabricating evidence, as under Tunisian law "anyone who, in a public address, in the media or by other means of publicity, makes accusations against a public official or accuses him of illegal activities in connection with his work, without establishing the truth of these allegations," could be sentenced to two years in prison.
"Placing Zied El Heni in pre-trial detention was completely unjustified and was done with the aim of silencing criticism of the proceedings against Mourad Meherzi. There has been disturbing increase in prosecutions of journalists and public figures, and this just took the already considerable tension up another notch," RSF said.
Five media watchdogs, including RSF, have also complained about Tunisian authorities over the arrest of Meherzi. As he not only stands accused of filming the incident where an egg was thrown at a government minister, but charges of conspiracy to commit an act violence against a public official as well, which carry a possible sentence of seven years in prison.
"The fact that a cameraman who filmed embarrassing footage in the course of his work was accused by a government minister of complicity, and that the prosecutor general then immediately began an investigation, constitutes an extremely disturbing and dangerous development for freedom of information in Tunisia," the five media freedom organisations said.
In the face of El Hani's arrest and other acts of repression against the media, the National Union of Tunisian Journalists SNJT (Syndicat national des journalistes tunisiens) called for a general strike on September 17. The Brussels-based International Federation of Journalists (IFJ), of which SNJT is a member, congratulated the protest against what it called "attempts by the Islamic-led authorities to stifle free speech by using the old legal arsenal of the Ben Ali government."
Earlier in July, journalists who covered protests that erupted following the assassination of a Tunisian opposition leader Mohamed al-Barahmi were "harassed, threatened and attacked" said the New York-based Committee for the Protection of Journalists (CPJ).
The CPJ report said that the Tunisia News Network was prevented from filming protests in front of al-Barahmi's house after the assassination on July 25. At a press conference on July 26, Tunisia's prime minister, Ali al-Arady, threatened private satellite channel Al-Hiwar al-Tunisia saying, "Your channel calls to violence, and we will take action against this channel," CPJ said.
Yasen al-Khragy correspondent for the private Al-Tunisia channel, and Ahmed al-Sahrawy of Al-Monestiry radio station, were attacked by members of a conservative religious group on July 26 while covering an anti-government demonstration. And on July 27, at least nine journalists covering a sit-in outside the National Constituent Assembly, were physically attacked, CPJ reported.
The mounting opposition towards a free media comes as Tunisia's Ennahada party run government is being accused by the opposition National Salvation Front of becoming a tool in the hands of radical Islamist faction within the party. Protests that intensified following Mohamed Brahmi's assassination in July and Chokri Belaid's in February have forced Ehnnahada to agree to talks with the opposition last week, which are to be followed by elections.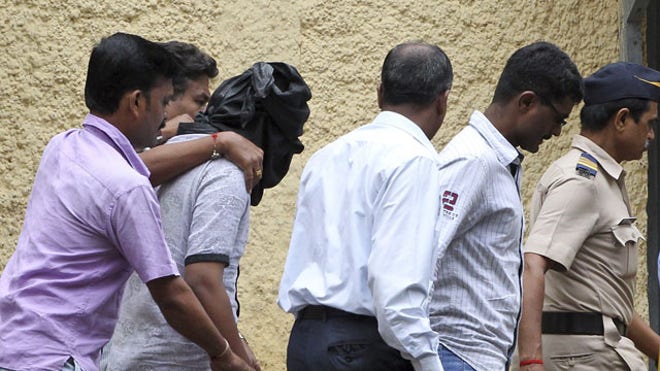 Accused in the Mumbai rape of photojournalist (Photo courtesy Fox News)
The rape of a 22-year-old trainee photojournalist of an English-language magazine in Mumbai, India on Thursday, August 22, has reignited concern of the use rape as weapon to silence journalists who are on reporting assignments in lonely and hostile environments.
In situations of armed conflict rape is declared a war crime used by perpetrators with a definite objective in mind – as a form of terrorising individuals and populations into submission. In certain conflicts, journalists, especially women, are raped not only because of their professional role, but also they belong to an ethnic, or tribal or political group that the opposing force is targeting.
"Many of the assaults fall into three general types: targeted sexual violation of specific journalists, often in reprisal for their work; mob-related sexual violence against journalists covering public events; and sexual abuse of journalists in detention or captivity," writes Lauren Wolfe in 'The silencing crime: Sexual violence and journalists.' The report was written for the New York-based Committee to Protect Journalists (CPJ) in June 2011.
Under this three-fold categorisation, the case of the photojournalist from Mumbai appears to be targeted sexual violation as reprisal for her work.
"The authorities must do everything possible to identify and arrest those responsible for this crime and bring them to trial. They must also guarantee the safety of journalists and ensure that this form of attack, one of the worst banes of Indian society, does not recur," said the Paris-based Reporters without Borders (RSF) in a statement.
Five suspects have been arrested by the Mumbai police following the survivor's description BBC reported. It quoted the Press Trust of India that the outrage has caused India's Maharashtra State Chief Minister Prithviraj Chavan to announce, "The case will be tried in a fast-track court to ensure speedy justice to the victim."
The incident happened when the photojournalist went with a male colleague to an abandoned mill in the city on a photo-shoot. According to RSF the two were confronted by the gang which had accused them of trespassing on private property. The man was also reportedly assaulted and secured by the attackers.
As always, horrendous incidents like this bring up memories of similar incidents. One such is the rape of a Dutchwoman on June 27, while she was photographing events at Tahrir square, Egypt. But since the person was not identified it is not known if she was a journalist.
What however is a ray of hope in an otherwise miserable business is the young photojournalist's defiance. The BBC said, "The victim, who is in hospital with multiple injuries, has said she is anxious to return to work after the attack. 'Rape is not the end of life. I want the strictest punishment for all the accused,' she said."
It was the same defiance that ultimately persuaded Jineth Bedoya, who was raped by rightwing paramilitaries in Colombia while reporting for El Espectador in May 2000. According to CPJ, it had taken Bedoya nine years to speak out about the ordeal she underwent.
"Since she began speaking out, Bedoya said, she has encountered a number of journalists—from Colombia to the United States to Europe—who had been raped or sexually abused but chose to stay quiet because of cultural and professional stigmas. By making her own case more visible, Bedoya said, she hopes to encourage these journalists to 'denounce what's happened to them and be able to ask for justice,'" said Wolfe in the CPJ report.
Wolfe concludes: "Sexual attacks against journalists have the effect of silencing the messenger and blocking the dissemination of news and information. In the same manner as other types of attacks, sexual aggression is a direct assault on the internationally guaranteed rights to freedom of expression and access to information."
But the survivor of the Mumbai rape incident, Bedoya and a number of other female and male journalists who are speaking out about their experiences and denouncing the perpetrators might, hopefully, be the beginnings of change.