The New York-based Committee to Protect Journalists (CPJ) has published the 2014 edition of Attacks on the Press: Journalism on the World's Front Lines. The 240-page study contains both country reports with concise accounts on assaults on media freedom and the freedom of information, and thematic studies on impunity, surveillance, media and markets, censorship, global development, the internet, security and nations at risk.
The thematic studies are the following. Impunity: When Journalists Are Killed, Witnesses May Be Next by Elisabeth Witchel; surveillance: The NSA Puts Journalists under a Cloud of Suspicion by Geoff King; media and markets: Without Stronger Transparency, More Financial Crises Loom by Michael J. Casey; censorship: Would-Be Repressors Brandish 'Ethics' as Justification by Jean-Paul Marthoz: global development: Putting Press Freedom at the Heart of Anti-Poverty Efforts by Rob Mahoney; the internet: How the United States' Spying Strengthens China's Hand by Joel Simon; security: Finding the Courage to Cover Sexual Violenceby Frank Smyth; nations at risk: CPJ Risk List: Where Press Freedom Suffered by Maya Taal.
"Every day, journalists around the world face incredible risks – from imprisonment and assassination to simply just 'disappearing' – all for the ethical practice of their profession. Caught between wars and uprisings and corrupt police and drug cartels, as well as increasingly oppressive censorship laws, they find themselves in some of the most dangerous situations imaginable," says CPJ.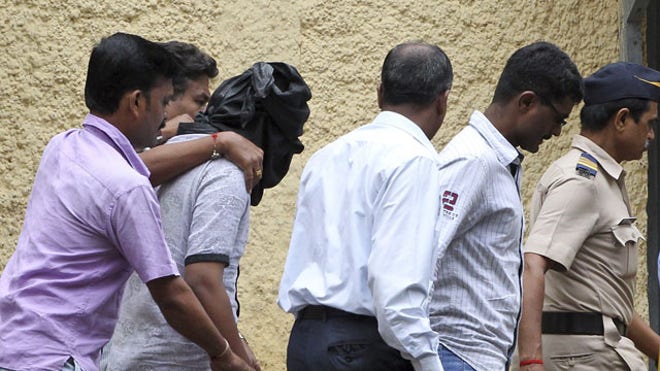 Accused in the Mumbai rape of photojournalist (Photo courtesy Fox News)
The rape of a 22-year-old trainee photojournalist of an English-language magazine in Mumbai, India on Thursday, August 22, has reignited concern of the use rape as weapon to silence journalists who are on reporting assignments in lonely and hostile environments.
In situations of armed conflict rape is declared a war crime used by perpetrators with a definite objective in mind – as a form of terrorising individuals and populations into submission. In certain conflicts, journalists, especially women, are raped not only because of their professional role, but also they belong to an ethnic, or tribal or political group that the opposing force is targeting.
"Many of the assaults fall into three general types: targeted sexual violation of specific journalists, often in reprisal for their work; mob-related sexual violence against journalists covering public events; and sexual abuse of journalists in detention or captivity," writes Lauren Wolfe in 'The silencing crime: Sexual violence and journalists.' The report was written for the New York-based Committee to Protect Journalists (CPJ) in June 2011.
Under this three-fold categorisation, the case of the photojournalist from Mumbai appears to be targeted sexual violation as reprisal for her work.
"The authorities must do everything possible to identify and arrest those responsible for this crime and bring them to trial. They must also guarantee the safety of journalists and ensure that this form of attack, one of the worst banes of Indian society, does not recur," said the Paris-based Reporters without Borders (RSF) in a statement.
Five suspects have been arrested by the Mumbai police following the survivor's description BBC reported. It quoted the Press Trust of India that the outrage has caused India's Maharashtra State Chief Minister Prithviraj Chavan to announce, "The case will be tried in a fast-track court to ensure speedy justice to the victim."
The incident happened when the photojournalist went with a male colleague to an abandoned mill in the city on a photo-shoot. According to RSF the two were confronted by the gang which had accused them of trespassing on private property. The man was also reportedly assaulted and secured by the attackers.
As always, horrendous incidents like this bring up memories of similar incidents. One such is the rape of a Dutchwoman on June 27, while she was photographing events at Tahrir square, Egypt. But since the person was not identified it is not known if she was a journalist.
What however is a ray of hope in an otherwise miserable business is the young photojournalist's defiance. The BBC said, "The victim, who is in hospital with multiple injuries, has said she is anxious to return to work after the attack. 'Rape is not the end of life. I want the strictest punishment for all the accused,' she said."
It was the same defiance that ultimately persuaded Jineth Bedoya, who was raped by rightwing paramilitaries in Colombia while reporting for El Espectador in May 2000. According to CPJ, it had taken Bedoya nine years to speak out about the ordeal she underwent.
"Since she began speaking out, Bedoya said, she has encountered a number of journalists—from Colombia to the United States to Europe—who had been raped or sexually abused but chose to stay quiet because of cultural and professional stigmas. By making her own case more visible, Bedoya said, she hopes to encourage these journalists to 'denounce what's happened to them and be able to ask for justice,'" said Wolfe in the CPJ report.
Wolfe concludes: "Sexual attacks against journalists have the effect of silencing the messenger and blocking the dissemination of news and information. In the same manner as other types of attacks, sexual aggression is a direct assault on the internationally guaranteed rights to freedom of expression and access to information."
But the survivor of the Mumbai rape incident, Bedoya and a number of other female and male journalists who are speaking out about their experiences and denouncing the perpetrators might, hopefully, be the beginnings of change.
Haji Abdul Razzak (Courtesy RSF)
The mutilated body of another murdered journalist – Haji Abdul Razzak of the Balochi-language daily, Tawar – who went missing in March was discovered in Karachi on Wednesday, August 21. He had been tortured to death.
According to the Paris-based Reporters without Borders (RSF) Razzak's body, found with that of another unnamed person's, was so badly mutilated that the family took 24 hours to identify it.
"Journalists in Balochistan and the Tribal Areas are constantly the targets of intimidation and violence, and the impunity enjoyed by those who murder them just sustains this climate of terror. The authorities must end it at once by pursuing this investigation to its conclusion," RSF said.
Four Balochs – Imran Shaikh, Saifur Rehman and Mohammad Iqbal killed a double bombing in Quetta and Mehmood Ahmed Afridi gunned down in Karat – are among a total of seven journalists killed in Pakistan this year, RSF reported.
Meanwhile, the statement by the New York-based Committee to Protect Journalists (CPJ) delineates the intimidating environment in which Razzak and other journalists work in Pakistan. CPJ said that Razzak had left the Tawar briefly after a journalist from the same newspaper,
Javed Naseer Rind's body was found in November 2011. Rind's body had bullet wounds in the head and chest and bore marks of torture. But Razzak returned to work in 2012.
CPJ said that at a press conference at the Karachi Press Club, Razzak's family members had accused "Pakistani intelligence agencies of being responsible for the abduction, but did not elaborate." RSF designates intelligence services with two others – Mullah Mohamad Omar and the Balochi separatists – as "predators of the media" in Pakistan.
Describing the daily Tawar as a "Urdu-language pro-Baluch nationalist newspaper," CPJ says it "is known for its coverage of the many conflicts between rival groups and the government." Both media watchdogs said Razzak was linked to a political party, with the CPJ going on to say it was the Balochi National Movement. RSF urged the Pakistani authorities to investigate Razzak's murder not only to establish the motive but "determine whether it was linked to his work as a journalist."
"Journalists from Baluchistan face pressure from a number of sources: pro-Taliban groups and Pakistani security forces and intelligence agencies, as well as Baluch separatists and state-sponsored anti-separatist militant groups," CPJ observed
In an interviewto the Baloch Hal, well-known Balochi journalist Shezada Zulfiqar, replying to the question why journalists in Balochistan are so vulnerable replied, "Because they are before the public. They also go to separatist leaders, intelligence agencies, land lords, Sardars, Nawabs, etc. In these circumstances, journalists should be very cautious not to cross the 'invisible red line.'"
Zulfiqar's urges unity within the journalist fraternity for their protection. "Then they shall neither annoy security forces nor separatist elements by reporting anything against them."
Protests in Egypt
In the early hours of August 14, 61-year-old Mick Deane, a veteran with UK's Sky News was killed. He was shot dead while covering protests by supporters of ousted Egyptian president Mohammed Morsi as the military charged. With Deane was Xpress journalist Habiba Ahmed Abd Elaziz (26), although Abd Elaziz was not officially on duty. Many journalists were injured.
On October 29 last year, Somaia Ibrahim Ismail, also known as 'Hundosa,' was kidnapped by Sudan's National Intelligence and Security Service (NISS). She was tortured for three days for opposing Sudan's President Omar Al-Bashir. "Her jailers shaved her hair. She was told it was because 'it looked like the hair of Arabs and she belonged to the slaves in Darfur,'" said RSF in a statement on her ordeal.
"Always, constantly, constantly, every minute, weigh the benefits against the risks. And as soon as you come to the point where you feel uncomfortable with that equation, get out, go, leave. It's not worth it," wrote Terry Anderson, the former Associated Press Middle East correspondent who was held hostage in Beirut for nearly seven years, "There is no story worth getting killed for."
But journalists do get killed and injured while covering wars, or tortured, threatened and murdered when they deal with ruthless dictators. Others suffer the consequences of reporting natural and man-made disasters. There are other forms of insecurity too: In an increasingly digitised world, journalists communicate using the internet and store data in places where they can be hacked.
In a bid to address the often interrelated issues of (in)security for journalists, the Committee to Protect Journalists (CPJ) has published a Journalists Security Guide. Written by Frank Smyth, CPJ's senior security advisor with a chapter on information security by Danny O'Brian, CPJ's internet advocacy coordinator, the guide provides thoughtful, concise tips to journalists and journalism students.
You can access the document here…


In the posting on August 13, this blog referred to squabbles between powerful agencies within Iran's ruling establishment and how they appear to have influenced the country's newly-elected president, Hassan Rouhani, to abandon an important role for reformists in his cabinet.
While there are moderates in the cabinet, its composition is seen more as a delicate balance of forces for what Rouhani believes is the task ahead – retrieving Iran from the biggest two, interrelated, challenges it is facing – developing nuclear weapons and the devastating effects of international sanctions. An important step towards this goal was to counterbalance the hard-line Islamic Revolutionary Guardian Corps (IRGC) by pruning its numbers in the cabinet and increasing the number of representatives of the Ministry of Intelligence and National Security (MOIS).
According to Ali Alfoneh of the Foundation for the Defence of Democracies the "relatively strong MOIS presence […] is unprecedented." One of the three members of MOIS in Rouhani's cabinet of course is the dreaded Mostafa Pour-Mohammadinominated for the post of the minister of justice.
While the appointment of Pour-Mohammadi is not the first instance of intelligence agencies playing a decisive role in shaping the role of Iran's media, it might be interesting to look at another country which has as notorious a record of stifling media freedom through its intelligence agency – Sudan. Interestingly, Iran (174th) and Sudan (170th) are among the worst 10 in RSF's 179-country Press Freedom Index.
In a statement on April 5, RSFsaid that Sudan's National Intelligence and Security Services (NISS) had "ordered Al Nour Mohamed Al Nour's suspension as editor-in-chief of the independent Arabic-language daily Al Sahafa." RSF said that Al Sahafa had promptly acceded to the order and removed Al Nour's name from the publication's masthead. The RSF statement said that AFP had quoted Al Nour saying, "[h]is removal may have been linked to disagreements about the censorship imposed by the security services."
RSF also drew attention to NISS summoning for questioning Almosalami Alkabbakhi, Al Jazeera's Khartoum correspondent. The agency accused him of reporting false information and unbalanced reporting. Alkabbakhi was questioned for nine hours on April 3 and 4 and ordered to report for further questioning, RSF said.
One of the most horrifying cases of NISS's role in suppressing freedom of the media is the kidnapping and torture of Somaia Ibrahim Ismail, also known as 'Hundosa,' on October 29 last year. RSFsaid she was tortured for three days for opposing Sudan's President Omar Al-Bashir."Her jailers shaved her hair. She was told it was because "it looked like the hair of Arabs and she belonged to the slaves in Darfur," said RSF. She was then reported to have taken refuge in her family home on November 6 and later fled the country
NISS's unwelcome intrusion into media freedom does not stop here. In the same report RSF said that on March 24, NISS had confiscated all copies of the Arabic daily Al-Khartoum and in January, 14,000 copies of another Arabic-language publication Al-Sudani. In another statement, dated January 24, RSFsaid that the moves appeared to be the result of Al-Sudani reporting the Sudanese opposition meeting in Uganda's Kampala to take forward the struggle against the Khartoum government.
Meanwhile, New York-based Committee to Protect Journalists (CPJ) has recorded NISS's role in closing and banning publications in Sudan. In a statement on June 6, CPJ said that three publications had been banned despite NISS and the Sudan's information minister expressly agreeing earlier to suspend pre-publication censorship.
CPJ said Madiha Abdella, editor of the opposition Al-Midan, the official newspaper of the Communist Party, had told his staff that NISS had ordered the printing and distribution companies of the newspaper to suspend operations, although Al-Midan's online version was permitted . CPJ also said that two other newspapers Al-Meghar al-Syasy and Al-Intibaha were banned from publishing on May 24. Al-Meghar al-Syasy was banned for criticising Sudan's President Omar Al-Bashir seeking re-election in 2015 and Al-Intibaha for reporting clashes between the military and rebels in the restive South Kardofan region.
"The Sudanese government cannot have it both ways, offering to lift pre-publication censorship while at the same time reverting to its long-standing tactic of banning publications outright," said CPJ Deputy Director Robert Mahoney.
The NISS has not been alone in intimidating journalists. CPJsaid in a statement on July 17 that Bloomberg correspondent Michael Gunn was seized, detained assaulted and threatened by the police. Gunn who fled the country on July 2 was covering a meeting of an opposition party in Omdurman when he was taken in. "The journalist said that he was then blindfolded and interrogated for three hours about what he was doing in Sudan. He said he was slapped several times during the interrogation and that he was ordered to unlock his smartphone," CPJ said.
With Sudan's independent media stifled and civil society crippled, NISS has very few obstacles in propping up the Al-Bashir regime. And, unlike Iran, the actions of the predators of Sudan's media takes place with few countries bothering about them.