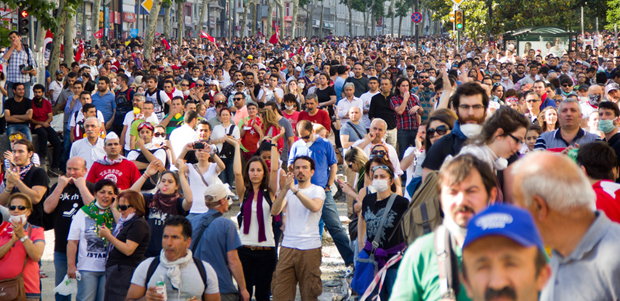 Demonstrations at Gezi Park (Pic courtesy Index on Censorship)
Turkish author and playwright Meltem Arikan who has campaigned long and hard against patriarchy, in an essay and interview with Index on Censorship (IoC) highlights the role of the artist in resisting repression to bring about democratic change, and the part played by social media in that transition.
Arikan was charged as one of the conspirators behind the citizen protests last year in Gezi Park by senior Turkish officials. Her essay, written after she fled into exile in the UK, is in the form of a journal. It highlights Turkish mainstream media wilfully ignoring the people's outrage expressed by people 'occupying' the park, which the more nimble social media – especially twitter – is able to outwit. As interesting are the slogans and graffiti on the walls scrawled by protestors brought face-to-face with officialdom armed with pepper spray and tear gas.
"They learned a valuable lesson — censoring the media had not prevented the people from finding out what was going on. In fact it had the opposite effect. It spawned thousands of new social media users, who understood — some for the first time — what young people have known all their lives, that new media has transformed the way we share and access information and ideas," Arikan writes.
Click hereto read the essay
In the interview with IoC's Julia Farrington, Arikan speaks about her play Mi Minor which not only discusses democratisation by challenging the established, oppressive, patriarchal order though social media, but also engages the audience through role playing and the social media.
"During the play the audience could choose to play the President's deMOCKracy game of the, or support the Pianist's rebellion against the, system. The Pianist starts reporting all the things that are happening in Pinima through Twitter, which starts a Role Playing Game (RPG) with the audience. Mi Minor was staged as a play where an actual and social media oriented RPG was integrated with the actual performance. It was the first play of its kind in the world," she says.
Click hereto read the full interview