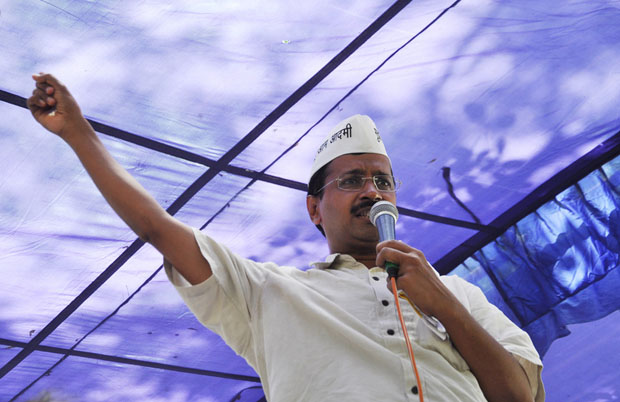 Arvind Kejriwal on the campaign trail (Pic Index on Censorship)
"A big challenge for 2014 will be to utilize new tools and tactics for positive change – while reining in the efforts of those who are thinking just as hard about how to use tech to steal, spy or stifle dissent," writes Human Rights Watch's director, communications Emma Daly in a piece in CNN.
In 'Why tech is a double-edged sword for human rights' Daly catalogues a series of events in which the use of technology has either helped or hindered upholding of human rights. Leading the rest of course was digital technology: "The technological advances that enabled the Arab Spring and empowered citizen journalists were exposed as facilitating unfettered surveillance worldwide and outstripping legal protections. We learned that Big Brother, a standby of totalitarian regimes, is also operating in Washington DC."
But two articles in Index on Censorship (IoC) website, one dated November 21 and the other January 6, are a vivid demonstration on how moderately repressive governments attempting to stifle the free flow of information (unlike those that are outright totalitarian) fight a losing battle when they try to impose censorship by controlling the internet.
In her research paper 'India: digital freedom under threat?' published in IoC, Melody Patry writes about the stifling of independent voices on the internet in India through harsh regulations and shadowy threats. She says, "India is the world's largest democracy and protects free speech in its laws and constitution. Yet, freedom of expression in the online sphere is increasingly being restricted in India for a number of reasons- including defamation, the maintenance of national security and communal harmony, which are chilling the free flow of information and ideas. Many of the most restrictive laws and technical means used to enforce these restrictions are recent developments that have undermined India's record on freedom of expression."
But in less than two months another story on the same website shows only too clearly that the internet remains a magnet to those who want to use it for political messaging. In his post 'India: social media finally has its campaign in the sun,' Mahima Kaul argues how Aravind Kejriwal of the Aam Adam Party, the latest political sensation in India, defeated three times chief minister of New Delhi veteran Sheila Dixit on an anti-corruption platform, partly through the adroit use of social media.
"The Aam Aadmi Party and Arvind Kejriwal have certainly cornered the market on becoming heroes for promises made, aided by a masterful communication strategy. But there is more to this. Indians – residents of New Delhi – finally were able to participate in the interactive social media political campaign that they had previously only read about. The promise of an active democracy where the political leaders don't just dictate terms but actually solicit and respond to the common man is too tempting an offer to ignore."
This does not mean that Indian government officials and politicians who are paranoid about national security issues either from within India or outside, will not try enforcing restrictions citing security considerations. Worse, if citizen journalism and digital technology successfully challenges corruption which is Kejriwal's goal, there will be concerted moves to stifle internet freedom. But once politicians following Kejriwal's lead realise they are generally better served by an open internet than a censored one, it will be very difficult to apply restraints. It is only by such small, (selfish) incremental beginnings that freedom of information is strengthened.
Kewa Germayani (Pic IFJ)
Autonomous regions within States are sometimes more progressive in enforcing the rule of law in comparison with the States themselves. An example is the contrast between the Kurdistan Region of Iraq and the national government of Iraq in dealing with infringements on freedom of the media.
The Kurdistan Region of Iraq (KRI) was carved out of Iraq in the 1970s after years of bitter fighting between the Kurds and the Arab-dominated Iraq. It has remained autonomous despite being under attack by Iraqi governments, most notably President Saddam Hussein.
On December 5, Kewa Germayani, editor of the magazine 'Reyal' was shot dead in front of his home at Kalar in the KRI. According to the Paris-based Reporters without Borders (RSF), he had written extensively on corruption in the KRI and under threat.
Following his killing – the third in five years in KRI – RSF said, "We are worried about the very dangerous climate for journalists both in Iraqi Kurdistan and the rest of Iraq, and about the impunity enjoyed by their attackers and killers. We urge the regional and national authorities to take the appropriate measures so that journalists can work without fearing for their safety or their lives."
Its concern was taken up by other international media freedom monitors including the Brussels-based International Federation of Journalists (IFJ). On December 6, IFJ wrote to KRI President Massoud Barazani: "We ask your government to carry out a thorough investigation into this and other cases of journalists' killings and ensure that truth and justice are served in the interests of lasting rule of law and respect for human rights in the Kurdistan Region of Iraq."
Surprisingly, Barazani's government agreed to appoint a committee to monitor investigations into the murder of Germayani. IFJsaid, "The committee is headed by the legal advisor of the prime minister and five other members representing the Kurdistan Journalists' Syndicate, the ministry of the interior, the security forces, the local government and local press freedom NGO, Metro Centre."
IFJ welcomed the move with its president, Jim Boumelha, writing, "[w]e welcome this hugely positive move which sends the right message that murdering journalists in the region will not go unpunished."
While we do not know whether the committee will live up to the ideals of a fair and free inquiry, its response is a contrast to the Government of Iraq's on a similar issue.
For instance, there has been a spate of killings mostly in Mosul starting October. The latest was December 15, where a 19-year-old TV presenter Nawras al Nouaymi was shot near her home. Nouayami was a student at Mosul University's media faculty and a presenter for Al-Mosuliya for the past five years.
"The continuing violence and the impunity enjoyed by those responsible constitute a major threat to freedom of information," said RSFin a pres release.
The lack of investigation and prosecution of perpetrators is quite obvious when we see four earlier shooting deaths have not been seriously investigated: Alaa Edwar, a cameraman with local TV station 'Nineveh Al-Ghad,' (killed November 24) 'Al-Mosuliya' cameraman Bashar Al-Nouaymi, (killed October 24) and 'Al-Sharqiya' TV's reporter Mohamed Karim Al-Badrani and cameraman Mohamed Al-Ghanem (killed October 5).
Human Rights Watch commented on impunity enjoyed by killers of journalists in a post soon after the gunning down of Alaa Edwar. It said, "The killings in Mosul have made October and November the deadliest two-month period this year for journalists. Iraqi authorities have released no information about the results of any pending investigations into the killings, nor announced any arrests."
"A local judge told Human Rights Watch that local security forces 'would not seriously investigate' the killings, and a representative of a local rights organisation said that authorities would not investigate unless the victims' families initiated complaints, which they are afraid to do.

"'Iraqi authorities give lip service to investigating these assassinations, but can't even be bothered to interview the witnesses.' Whitson said. 'They have not made a single arrest, or filed a single charge, against gunmen running around killing journalists in broad daylight,'" notes the HRW article. (Sarah Leah Whitson is Middle East director, HRW.)
There is no doubt media freedom is endangered in KRI where three journalists have been killed in five years. Despite these shortcomings, KRI, which is a non-State entity, nor is answerable to the Iraqi government, clearly appears more forthcoming in upholding media freedom than a State body recognised as such by the international community and by international law.


According to the New York Times, US President Barrack Obama meeting his Vietnamese counterpart Truong Tan Sang at the Oval Office on July 26 had "referred gently to the (human rights) abuses, saying: 'All of us have to respect issues like freedom of expression, freedom of religion, freedom of assembly. And we had a very candid conversation about both the progress that Vietnam is making and the challenges that remain.'"
It is the gentle, inoffensive remarks about human rights abuses in other parts of the world, whether in China, Russia, Turkey, and yesterday in Vietnam, which make human rights activists and most decent people bristle. Given US's foreign policy initiatives in Asia such as its 'pivot' and deep suspicion of China's expanding tentacles in the region, that verbal non-aggression is the best form of engaging Vietnam is perhaps what Obama's foreign policy advisors told him.
Another reason for Obama going gently on human rights is because the US is building TPP, or Trans-Pacific Partnership, with countries in the Southeast Asian region which would benefit immensely by the cheap labour in Vietnam.
This was reflected in a report by Bloomberg (July 25): "The Obama administration, Bower said is seeking to balance human-rights concerns against signs of improvement and Vietnam's role in the region." "Ernest Bower, president of Fairfax, Virginia-based Bower Group Asia, which advises businesses on operating in Southeast Asia, said while there are legitimate concerns about human rights, U.S. labour unions also are, 'threatened by the garment and textile industries' in Vietnam. Bower said in the long run, the Trans-Pacific Partnership trade deal being negotiated is more likely to boost total U.S. manufacturing," reported Bloomberg.
Before the Obama-Sang meeting, number of rights organisations highlighted the attention of the US president to various shortcomings in Vietnam's human rights regime. Of special concern to this blog is freedom of expression. Nineteen human rights monitors initialled a letter to Obama drawing attention to the detention of blogger and lawyer Le Quoc Quan. The letter said, "Given the great importance of international attention to the effort to secure Mr Quan's freedom, and to enable him to return to his indispensable human rights work, we hope you will seize the opportunity of President Sang's upcoming visit to request the immediate release of Mr Quan." (The July 9 post on this blog details the trial of Le Quoc Quan)
Reporters without Borders (RSF) also circulated a public petition asking for the release of 35 bloggers are detained by the Vietnamese government including Le Quoc Quan.
"After the recent wave of arrests instigated by the Vietnamese Communist Party, we decided that our targeted support activities should be reinforced by a global support initiative, so that the fate of all these bloggers is not forgotten," RSF said.
"We call for their immediate and unconditional release, the lifting of censorship and the repeal of the repressive laws that are used against bloggers and netizens, especially articles 88 and 79 of the criminal code."
Human Rights Watch's statement prior to the meeting was stronger, "[t]he Obama administration should also be asking itself a more fundamental question: Should the United States continue to engage in business as usual with a government that criminalizes the act of calling for democracy, and shows no inclination toward reform?" it asked.
"It is clear that U.S. policy needs to change — the question is how. The United States needs to start linking its economic and other relations with Vietnam to specific human rights reforms. And the message on this should be clear and public," said HRW.
Links: