A short article highlights how social media is making inroads into China's highly centralised, authoritarian political structure. The Communist Party's biggest fear is not critical writing about corruption or political scandals, but the role of social in publicising anti-government protests.
Caught between closing the internet outright, which might reduce political protests – at least temporarily – but will be disastrous for running a modern economy, and a censorship-free internet that will push China further on the road to modernisation, but at the cost of a one-party state, Beijing is caught between a rock and a hard place.
While it employs armies of censors to troll the net to take down comments deemed offensive to the State, Chinese dissidents use the language in innovative ways to hint to something sensitive but not quite say it.
"In addition to the notorious firewall, the government can censor specific words to try and control the narrative of any given incident, by pushing their own agenda and restricting citizens' freedom of expression. However, many online users use images, and memes in particular can portray a serious topic in a light-hearted manner, further increasing the spread of information," writes Stephen Junor for Index on Censorship.
You can read the article here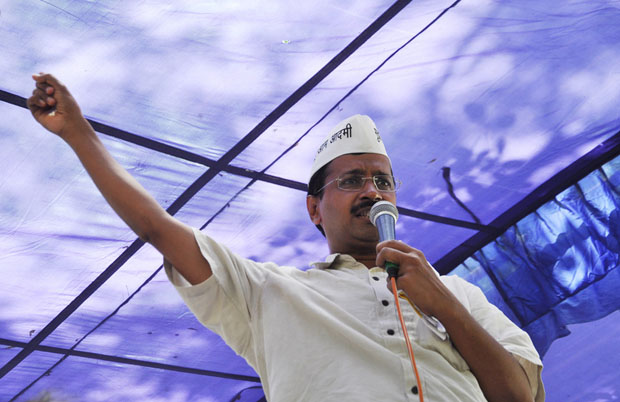 Arvind Kejriwal on the campaign trail (Pic Index on Censorship)
"A big challenge for 2014 will be to utilize new tools and tactics for positive change – while reining in the efforts of those who are thinking just as hard about how to use tech to steal, spy or stifle dissent," writes Human Rights Watch's director, communications Emma Daly in a piece in CNN.
In 'Why tech is a double-edged sword for human rights' Daly catalogues a series of events in which the use of technology has either helped or hindered upholding of human rights. Leading the rest of course was digital technology: "The technological advances that enabled the Arab Spring and empowered citizen journalists were exposed as facilitating unfettered surveillance worldwide and outstripping legal protections. We learned that Big Brother, a standby of totalitarian regimes, is also operating in Washington DC."
But two articles in Index on Censorship (IoC) website, one dated November 21 and the other January 6, are a vivid demonstration on how moderately repressive governments attempting to stifle the free flow of information (unlike those that are outright totalitarian) fight a losing battle when they try to impose censorship by controlling the internet.
In her research paper 'India: digital freedom under threat?' published in IoC, Melody Patry writes about the stifling of independent voices on the internet in India through harsh regulations and shadowy threats. She says, "India is the world's largest democracy and protects free speech in its laws and constitution. Yet, freedom of expression in the online sphere is increasingly being restricted in India for a number of reasons- including defamation, the maintenance of national security and communal harmony, which are chilling the free flow of information and ideas. Many of the most restrictive laws and technical means used to enforce these restrictions are recent developments that have undermined India's record on freedom of expression."
But in less than two months another story on the same website shows only too clearly that the internet remains a magnet to those who want to use it for political messaging. In his post 'India: social media finally has its campaign in the sun,' Mahima Kaul argues how Aravind Kejriwal of the Aam Adam Party, the latest political sensation in India, defeated three times chief minister of New Delhi veteran Sheila Dixit on an anti-corruption platform, partly through the adroit use of social media.
"The Aam Aadmi Party and Arvind Kejriwal have certainly cornered the market on becoming heroes for promises made, aided by a masterful communication strategy. But there is more to this. Indians – residents of New Delhi – finally were able to participate in the interactive social media political campaign that they had previously only read about. The promise of an active democracy where the political leaders don't just dictate terms but actually solicit and respond to the common man is too tempting an offer to ignore."
This does not mean that Indian government officials and politicians who are paranoid about national security issues either from within India or outside, will not try enforcing restrictions citing security considerations. Worse, if citizen journalism and digital technology successfully challenges corruption which is Kejriwal's goal, there will be concerted moves to stifle internet freedom. But once politicians following Kejriwal's lead realise they are generally better served by an open internet than a censored one, it will be very difficult to apply restraints. It is only by such small, (selfish) incremental beginnings that freedom of information is strengthened.
Index on Censorship (IoC) has highlighted five cases of artistes attacked in 2013 for their performances as an infringement on their freedom of expression. However, while four of the five cases are of intolerant governments and militants groups trying to silence critical voices of performers in their own countries, one instance is different.
Lena Hendry is a programme officer for the non-profit KOMAS in Kuala Lampur Malaysia, but could be imprisoned and fined if found guilty by the Malaysian courts for the private screening of No Fire Zone, a documentary on the massacre of Tamil civilians in Sri Lanka during the final few months of the civil war ending in May 2009.
The other four cases highlighted by IoC are: Weld El 15 (aka Yaacoub) the Tunisian rapper arrested and sentenced for two years for posting an online song 'Police are Dogs' and later released on a six-month suspended sentence; Kazakh poet Aaron Atabek sentenced to 18 years in prison for protesting the demolition of a shanty town and later put in solitary confinement for smuggling out poetry of protest while in detention; death threats by Islamic militants on 12,000 singers and musicians in Mali that has put them out of work, closed theatres and forced some to flee overseas; 19 actors in the city of El Kef in Tunisia assaulted by Salafi militants and later arrested by the police on charges of indecency that carries a sentence of six months incarceration.
However, the Weld El 15 case posted was not on his arrest for his online song 'Police are Dogs' but for another conviction in September for a concert performance in Hammemet with fellow-rapper Klay BBJ (aka Ahamed Ben Ahamed).
Lena Hendry was arrested by Malaysian police. On July 3, a private screening before an invited audience of No Fire Zone was co-organised by Pusat KOMAS, the Malaysian human rights NGO and KL & Selangor Chinese Assembly Hall Civil Right Committee. Before the event the organisers received a fax from the Sri Lankan High Commission in Kuala Lampur asking it not be screened and accusing the organisers of supporting terrorism, said a Malaysian news website FMT.
The screening was disrupted midway by Malaysian officials of the home ministry and the police. Although they were persuaded to let the film continue, all members of the audience leaving the hall had their identity papers scrutinised. KOMAS, says in a press release, "This is a clear abuse of power as it was not necessary for them to harass the audience who had just come to watch the movie."
Although Hendry was told to appear in court on August 6, the hearing was postponed to September 19. On the 19th Hendry was charged under Film Censorship Act but it unclear whether others were too. "[to] ridiculously proceed with this travesty of justice by the charging of Lena Hendry is evident of the KDN and the AG Chambers' bully tactics and total disregard of universal human rights principles and worse of all, the Malaysian Constitution," reported MSN.
Meanwhile in the Tunisian case, Weld El 15 was in hiding and did not appear in court in September when his fellow-performer Klay BBJ, first sentenced for 21 months in jail was given a reduced six-month sentence on appeal. The sentence was not overturned in appeal.
Following the sentence, BBC quoting AFP said that Klay told court, "'[o]ur songs criticise the current situation in Tunisia and the government, no more and no less. I am among the rappers most critical of the government and that is why [the authorities] are after me.'"
IoC drawing attention to these five cases said, "Art is one of the most prominent forms of freedom of expression, allowing people to express their thoughts through song, dance, prose and theatre. It is not uncommon across the world for performers to be attacked as a form of censorship, ultimately silencing what they are trying to say."
Protests in Kiev
Journalists were among those injured Sunday, when Ukrainian police attacked protestors who broke away from a 300,000-strong demonstration in Kiev to storm President Viktor Yanukovych's offices after he refused to sign a free trade agreement and establish deeper political links with the European Union.
The Huffington Post said that the rally in Kiev's Independence Square was orderly despite the government banning protests, turned violent when thousands of protestors broke away from the main demonstration and surged towards Yanuchovich's offices and tried to break through a police cordon with a front loader. They had also thrown rocks and other missiles. The police had used truncheons, tear gas and flash grenades to push them back Huffington Post reported.
Reporters without Borders (RSF) said that attacks on journalists had left 45 injured. Although the main assault on protestors occurred on Sunday, a smaller opposition rally on Friday was also violently dispersed. RSF noted that "most of the violence against journalists was deliberate."
"The frequency and gravity of the attacks on journalists indicate a deliberate desire to crush freedom of information," RSF said. "It is unacceptable that the media have again been the victims of the political unrest they were trying to cover as part of their professional duties.
"The police in particular have been guilty of targeted and disproportionate violence in blatant disregard for their obligation to protect the media. We urge the competent authorities to order the necessary investigations and to punish those responsible for the violence."
RSF said the 45 injured, which included eight foreign journalists, comprised eight who had been hit by stun grenades and teargas canisters, 26 who had been "beaten by members of the police and the special forces who knew they were journalists" and five had been targeted by demonstrators or persons in civilian dress. Many had to be hospitalised. Index on Censorship (IoC) said that among the journalists injured from the foreign media were correspondents from Associated Press and Euronews.
Meanwhile, the Organisation for the Security and Cooperation in Europe (OSCE) that reacted sharply to the crackdown and complained to the organisation's head was confronted with a problem of its own – OSCE's 2013 chairman-in-office is Ukraine's foreign minister, Leonid Kozhara.
IoC quoted from the letter Dunja Mijatović OSCE's representative for the freedom of the media wrote to Kozhara in which she said, "I am especially concerned that in most of the cases, the beatings were reportedly conducted by the law enforcement officers who attacked the journalists and disregarded their press identification. Violence against journalists cannot be tolerated."
In a related development Freedom House has just published a detailed report on freedom of expression in Ukraine during its tenure as chairman of OSCE. The report's summary said, "In spite of the generally high quality of legislation, the reality of implementation is less impressive. Citizens may freely express their views, and collect and disseminate information, but access to free and pluralistic media and to public information held by the authorities is inadequate. Journalists' working conditions are not secure enough to work safely and remedies for violations of journalists' rights or attacks on journalists are ineffective."
IoC also quoted the Belorussian Association of Journalists (BAJ) reprimanding Yanukovych's government for the violence. "Being in the centre of events is a journalists' job, but not a reason to try brutal force on them. We call on the authorities to investigate each incident of attack on our colleagues, and to ensure normal conditions for journalists' work. Absence of reaction to the violence looks like connivance," BAJ said.
Huffington Post said Ukraine's opposition had denounced those who had incited the attack on the presidential offices as government-hired thugs but called on the president to resign. "'Our plan is clear: It's not a demonstration, it's not a reaction. It's a revolution,' said Yuriy Lutsenko, a former interior minister who is now an opposition leader," reported Huff Post.
The violent rallies are reminiscent of the rallies of 2004 Orange Revolution when protestors occupied the streets to force fresh polls after allegations of fraud surfaced over the presidential election won by Yanukovich. The re-election soon after would bring pro-Western Viktor Yushchenko to power.
Manuel Murillo Varela (Pic courtesy RSF)
Targeting of journalists in Honduras, on the increase in recent months as the country's general elections approach, continued with a freelance cameraman in Tegucigalpa the latest victim. Manuel Murillo Varela's killing on October 25 comes four months after the abduction and murder of Anibal Barrow's.
To the Peter Mackler Award for Courageous and Ethical Journalism, media freedom in Honduras is of special interest because the third winner of the prize – in 2011 – was Karla Rivas working for Radio Progresso.


Rivas (R) speaking at award ceremony
Speakingat the National Press Club in Washington DC as she accepted the award, Rivas said, "Within this context of high insecurity and institutional arbitrariness, the deaths of journalists and media workers remain in the shadow of impunity, because impunity characterises a society based on the rule of the strongest."
Violence against journalists has heighted after the military coup of 2009 that installed President Porforio Lobo Sosa in power. A transit point in drug trafficking and political strongmen, Honduras' journalists have not only been killed but threatened and tortured. The Paris-based Reporters without Borders (RSF) said the Inter-American Commission on Human Rights had told the police to afford Murilloextra protection "after a score of policemen kidnapped and tortured him and a colleague for 24 hours in February 2010." RSF also said that Murillo had complained "that policemen seeking video footage of demonstrations by opponents of the June 2009 military coup had threatened to kill his family."
"We call on the authorities to organise a thorough and independent investigation to shed light on all aspects of this murder," RSF said. "We also call for an end to impunity for all crimes of violence against journalists, because investigations have been slow to produce results."
Anibal Barrow (Pic. courtesy RSF)
On July 9, the dismembered and partially-burned body of Anibal Barrow was discovered near Villanueva. RSFsaid it is believed that Barrow was killed on the day he was abducted – June 24 and a sum 15,000 Euros was paid by a "highly-placed person" to hit men. The media watchdog went on to say that four men had been arrested and the police was on the lookout for four others.
"While the investigation has already produced some results, the murder will remain unpunished as long as the instigators have not been identified and brought to trial," RSF said.
Following Barrow's killing the Washington DC-based Inter-American Commission Human Rights even called for a special investigative body: "The Office of the Special Rapporteur insists that the State needs to create special investigative bodies and protocols, as well as protection mechanisms designed to ensure the safety of those who are being threatened because of their work in journalism."
On April 9, Fidelina Sandoval with the radio and television station Globo survived a murder attempt unhurt in Tegucigalpa. RSF berated Honduran authorities for not providing Sandoval protection. RSF attributed the attempt to silence Sandoval was connected to illegal mining interests and land disputes. It called on the government to disarm militias working for these interests if effective end to the murder of journalists with impunity was to be brought to an end.
Fidelina Sandoval (Pic. courtesy RSF)
"What will Fidelina Sandoval's fate now be? The secretary of state for justice and the High Commissioner for Human Rights must, as a matter of urgency, put protective measures in place that are appropriate for journalists, as their security is not in any way guaranteed," said RSF.
Sandoval fled abroad.
In a bid to give context to the killings of journalists among others (Honduras has the highest murder rate in the whole world: 91 to every 1000), the Index on Censorship (IOC) said that criminal gangs, drug cartels and government politicians used the killings to give messages to others.
"Last July, body parts of a man, which appeared to have been partially burnt, floated on a small lagoon near sugar cane fields in San Pedro Sula. It was the body of Aníbal Barrow … Barrow was a close friend of President Lobo and was the second journalist with known links to the President murdered violently in the last two years. In May 2012, police found the body of Ángel Alfredo Villatoro, also a television broadcaster … His body was found dressed with a police special forces uniform. Nobody understood the uniform and the message. A few days before Villatoro was kidnapped, the police had taken away bodyguards that had been assigned to the reporter because of death threats."
IOC goes on to say that due to threat the media does not provide context or details in its reportage for the killings, nor is there investigative reporting into the murders because of the connections between the deaths and important political figures that have impunity.
"'We have examined some cases deeply but can never reach any conclusions,' said one editor (to IOC). Part of the reason many journalists are afraid to dig too deep in the cases of their dead colleagues is because they fear that in these cases, as in others in Honduras today, the authors could come from political, journalistic or police sectors, who may be operating in tandem with members of organized crime," says IOC.