Free speech in India came under fire when an internationally renowned publisher agreed to withdraw a book from circulation after complaints by far-right Hindu nationalists. But, critics said Penguin India had agreed to an out-of-court settlement in a civil law suit because it did not want to offend the Hindu nationalist Bharathiya Janata Party (BJP) that is widely expected to return to power in the May general election.
The book, The Hindus: an Alternative History authored by noted US scholar Wendy Doniger was published in 2009 and became a bestseller in India in the non-fiction category. The book was however not without its critics. In 2011 Dinanath Batra of the Shiksha Bachao Andolan filed a petition under Section 295A of the India Penal Code that protects citizens against "deliberate and malicious acts intended to outrage religious feelings or any class by insulting its religion or religious beliefs."
"In its first comments on the row Penguin said it had to respect the laws of land, such as those which make it a crime to offend religious feeling," said the BBC. The settlement obliges Penguin India to withdraw all copies from circulation and destroy unsold copies while the petitioner was enjoined to withdraw case filed against the publisher.
Although Penguin agreed to a settlement, it has not settled the row between free speech advocates and those who believe that academic and creative works that offend religious feelings should not published.
"There hasn't been any court order. The settlement was signed before they went to Supreme Court. Of course, there is a problem with strange and ambiguous laws, but they didn't fight it until the end," Booker prize-winning author Arundhati Roy told the BBC.
Free speech advocate PENalso condemned Penguin's decision: "PEN's India Centres in Delhi and Mumbai are deeply concerned about the reported decision by Penguin India to withdraw Wendy Doniger's scholarly book, The Hindus: An Alternative History. Choosing to settle the matter out of court, instead of challenging an adverse judgment, narrows India's intellectual discourse and significantly undermines freedom of expression."


BBC quoted Batra who filed the petition against Penguin had said, "The book is in a bad taste right from the beginning…If you see the front page [cover], the picture there is also objectionable since it portrays a deity in a vulgar pose. The book is slanderous and even facts have been distorted."
While Batra's view is that of a philistine's, the question of where a publisher draws a line between free speech and preserving the peace remains paramount – specially in a multi-religious country like India which has a 60-year history of conflict between majority Hindus and minority Muslims.
In an opinion piece to the Toronto Star columnist Haroon Siddiqui quotes former federal minister and member of India's Upper House Mani Shankar Aiyer saying, "Rushdie, that sod — he deliberately insulted and provoked Muslims but in the guise of literature. To us, keeping the peace in our complex, pluralistic society is more important than his preening about free speech."
Aiyer was of course referring to Salman Rushdie's Satanic Verses published in 1988 and banned in India because of fears it would provoke a Muslim backlash.
Aiyer continues, "Everyone in a democracy has the right to freedom of expression and everyone also has the right to be outraged. Such outrage, when shared by a large number of people, has to be taken into account by a democracy. To pre-empt protest that could turn violent is the duty of government."
Penguin's announcement was seen by New York Times' Ellen Barry as a possible step by the publisher to safeguard against a Hindu backlash if the Hindu nationalist BJP formed the government after victory at India's forthcoming general election.
"The announcement (of the settlement) has rippled through a city bracing itself for big change. Three months remain before general elections, in which the center-left Indian National Congress party is expected to suffer one of the worst losses in its history to the Hindu nationalist Bharatiya Janata Party…," she writes.
"Past Hindu nationalist governments have been marked by battles over religion and history. Artists tackling religious themes have been targeted by fringe groups, sometimes with a threat of violence attached," said Barry in an opinion piece to the NYT.
Inqilab's Ahmed Atik placed on two day remand (Pic. Daily Star)
Bangladesh arrested three journalists of the Bangla-language daily newspaper 'Inqilab' on January 9 for publishing "fabricated and false news" heightening fears that the recent upsurge in media repression is continuing.
Arrests were made under the Information and Communication Technology Act of 'Inqilab's news editor, Robiullah Robi, deputy chief correspondent, Rafiq Mohammad, and Ahmed Atik, the newspaper's diplomatic correspondent. Computers and printing equipment were also seized and the press sealed.
The Dhaka-based Daily Starsaid, that while Ahamed Atik was placed on a two-day remand, Robi and Mohammad were denied bail by the Metropolitan Magistrate S. M. Ashqur Rahman.
The offending story was an article on the newspaper's front page alleging the Bangladesh government had obtained Indian help to quell violence in the country's Satkhira District before general elections on January 5. The report struck a raw nerve as the Awami League party that stands accused of seeking Indian assistance went on to win the violence-ridden election that the opposition boycotted. Further, the Awami League is characterised as a 'pro-Indian,' a controversial issue in a country which has had fluctuating political relations with its mammoth South Asian neighbour.
"They published the sensational news that goes against the country's sovereignty despite being aware that it was false and baseless," Dhaka police spokesman Monirul Islam told AFP. "We have arrested three journalists involved with the report. We raided the office following due procedures, only after obtaining a search warrant issued by a court," Islam said.
The Dhaka-based 'The News' said, "The front-page story quoted reports from two separate news websites and social networking sites, and included reactions from government officials and independent analysts."
The New York-based Committee to Protect Journalists (CPJ) quoted Bangladesh's information minister, Hasanul Haq Inu, saying the report had intended to cause a riot, damage relations between India and Bangladesh and tarnish the image of the country.
All accounts point to the 'Inqilab' as a pro-opposition newspaper.
"The government has leveled very serious allegations against the journalists that should be independently investigated," said CPJ Asia Program Coordinator Bob Dietz. "We call for the journalists to be released on bail and for the matter to be thoroughly adjudicated."
The arrests are of particular concern because only last week onetime editor of the 'Daily Blitz,' Salah Uddin Shoaib Chowdhury was sentenced to seven years imprisonment for "intentionally writing distorting and damaging materials" in an article he wrote in 2003. He was however initially charged for blasphemy, sedition and treason.
"[C]houdhury was accused of damaging the country's image in his articles critical of Islamism and of trying to attend a 2003 conference in Israel with the aim of talking about the emergence of radical Islam in Bangladesh," commented the Paris-based Reporters without Borders (RSF).
On other incursions on media freedom 'The News' said, "Last May authorities raided and closed down a pro-opposition television channel after it aired footage of clashes between Islamists and security forces in central Dhaka. A month before the shutdown of the TV station, a popular pro-opposition newspaper, 'Amar Desh,' was closed down and its editor arrested for sedition and inciting religious tension."
Meanwhile RSFhas been tracking four bloggers were arrested for posting material considered blasphemy ("derogatory contents about Islam and the Prophet Mohammed"). Three of them are on bail, while Asif Mohiuddin, who was injured in a murder attempt has been in and out of pre-trial detention.
(Pic courtesy The Guardian)
India ranks first among democracies and third in the world, in the number of journalists killed in the line of duty this year.
According to figures just published by Reporters without Borders (RSF), 71 journalists killed in 2013 overall, which is a slight decrease from the 88 killed in 2012. However, abduction of journalists in 2013 has risen alarmingly: from 38 last year to 87 in 2013.
As these statistics were published, RSF's Secretary General Christophe Deloire called for an amendment of the statute of the International Criminal Court (ICC) to define the "deliberate attacks on journalists, media workers and associated personnel" as war crimes. He was speaking on Friday at a special UN Security Council meeting in New York on protecting journalists where RSF presented a series of recommendations on improving legislation to protect journalists better.
Three countries – Syria (10 journalists and 35 citizen journalists), Somalia (7 journalists) and Pakistan (8 journalists) retained places among the top five 'deadliest countries for journalists' from last year. India, with eight journalists killed, assumed third position – behind Syria and Somalia and one place ahead of its South Asian neighbour. The Philippines occupies position five, also with eight deaths. Regionally Asia accounts for the highest number of journalists killed.
"The toll of eight journalists killed in connection with their work in 2013 broke all records in India. Criminal gangs, demonstrators and political party supporters were to blame in some cases. But local police and security forces were also guilty of rarely-punished violence and threats against reporters, forcing them to censor themselves," said RSF.
India and the Philippines replaced Brazil and Mexico, which were among the top five deadliest countries for journalists in 2012. RSF reports however that five journalists were killed in Brazil in 2013 (same as in 2012), while in Mexico two journalists were killed while three were abducted this year.
Among the 87 journalists abducted in 2013, 49 were kidnapped in Syria and 14 in Libya. As of December 18, 22 Syrian news providers and 18 foreign journalists are missing. "Foreign journalists were increasingly targeted by the government and by Islamists groups such as Islamic State in Iraq and the Levant (ISIS) and Jabhat Al-Nosra, but their Syrian colleagues were the most exposed," RSF said.
This year ranks more poorly compared 2012 in the number of physical attacks and threats to journalists. "Journalists were systematically targeted by the security forces in Turkey, in connection with the Gezi Park protests, and to a lesser extent in Ukraine in connection with the Independence Square (Maidan) protests," said RSF. There were also more than 100 cases of violence and harassment of journalists from Mexico, Colombia, Egypt, Iraq, Bangladesh, Pakistan and India.
Violence and threat has also forced journalists to flee into exile. Syria leads the numbers with 31 professional and citizen journalists many of whom RSF says "are now in Turkey, Jordan, Lebanon or Egypt, destitute and vulnerable." Syria is followed by Iran (12), Eretria (five) and Somalia.
"Victims of xenophobia and accused of being Muslim Brotherhood supporters in Egypt, interrogated and threatened by the security services in Jordan, and threatened by pro-Assad militias in Lebanon, their situation often continues to be extremely precarious," says RSF describing the life of exiled journalists.
In view of their situation Deloire speaking at the UN proposed, "[t]here is still no appropriate mechanism for protecting news providers and human rights defenders who are forced to flee their country. [RSF], which supports hundreds of exile journalists every year, is therefore urging the UN and member states to promote procedures for protecting and resettling news providers and human rights defenders who are in danger in transit countries."
(Tomorrow: journalists in detention)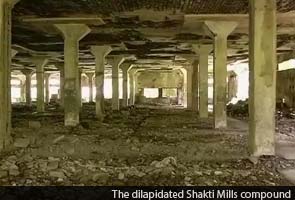 The Deserted Mill in Mumbai (Pic. courtesy NDTV)
The Indian photojournalist gang-raped while on assignment in Mumbai on August 23, fainted while giving evidence, Thursday, after identifying all four accused. BBC quoted Special Prosecutor Ujjwal Nikim telling reporters that she was "composed but 'under mental pressure.'"
The Indian news website DNAsaid, "'The rape survivor fainted during the deposition after which we stopped the proceedings and I requested the court that she be referred for medical help,' special public prosecutor Ujjwal Nikam told PTI."
The gang rape took place in an abandoned mill in Mumbai, where the survivor who interned for an English-language magazine and a male colleague had gone on assignment. The man was tied up before the woman was raped. Five persons were arrested of whom four stand trial in the court, while the fifth is being tried in a juvenile court. [See more details here]
The Mumbai episode followed the much-publicised incident in New Delhi in December, where a woman was gang-raped and killed when she was pushed off a moving bus. Following the outrage it created, the Indian government strengthened laws against sexual violence. Four persons convicted in September for the New Delhi crime were sentenced to death.
Both the BBC and DNA said, quoting the public prosecutor that the photojournalist had also identified pornographic video shown by her assailants during the assault.
On October 15, the Delhi-based NDTVquoted Nikam as saying the survivor's mother and "boss," (presumably the head of the organisation for which the survivor worked) had deposed in court.
"The accused Vijay Jadhav, Kasim Bengali, Salim Ansari and Siraj Rehman have been charged with rape, conspiracy, common intention, unnatural sex and charges under Information Technology Act. The Mumbai crime branch had on September 19 filed a 600-page charge sheet against the four accused," said DNA.
Both DNA and NDTV said three of the four accused in the case were also accused of another rape at the same place on July 31.
Prashant Rahi
A freelance journalist and activist from the Indian state of Uttarkhand was arrested under the country's draconian counterterrorism laws on September 1, said Amnesty International. Prashant Rahi was placed in pre-trial detention on a court order under the country's draconian Unlawful Activities Prevention Act (UAPA) for his alleged support of the Communist Party of India (Maoists), or Naxalites.
According to New Delhi-based Peoples' Union of Democratic Rights (PUDR), Rahi's arrest was preceded by that of another activist, Hem Mishra, a student of Jawaharlal Nehru University in New Delhi.
Amnesty said that Rahi was an activist seeking legal aid for people arrested on suspicion for alleged support of the Naxalites, which is a banned organisation in India. There are conflicting reports as to whether he was on his way to meet a Naxalite leader, or a lawyer, at the time of his arrest.
The London-based Amnesty International sent out an 'urgent action' alert on September 25 appealing for a fair trial for Rahi who is detained in Nagpur Central Jail in Maharashtra state because "parts of the UAPA, under which he has been arrested, do not meet international human rights standards and could lead to violations of his right to a fair trial. The UAPA allows detention without charge for up to 180 days, which is far beyond international standards. It also contains no provisions for adequate pre-trial safeguards against torture and other ill-treatment."
While Amnesty said that Rahi was not under no imminent threat of torture, an earlier alert (September 13) dispatched while Rahi was in the custody of the Aheri police, it flagged its possibility.
The Naxalites are a radical organisation that advocate and use violence to secure social justice for the poor and marginalised in parts of central and western India. They are known to carry out raids against the police and government agencies as well as wealthy, rapacious landlords seen as exploiting the poor.
The Times of India said in a report on September 28, "In a press release, the Western regional committee spokesperson [of CPI-M] Shriniwas has claimed that the … police have been framing social activists labelling them as Naxal sympathisers for their own vested interests. The rebels have claimed that the cops have been trying to suppress the voices of the intellectual and activists to stop them from bringing fore the oppressive measures of the government forces."
Commenting on the arrest and detention of Rahi and Mishra PUDR said, "That there is no real allegation of any crime against both Hem Mishra and Prashant Rahi, it is evident from the fact that both have been charged solely on the basis of the UAPA. For, it is this law that makes normal social and political activity into a crime solely on the whims and fancies of the police. Banning of political organisations and converting any association with such organizations and their opinions into a crime is what opens the gates to the law becoming an instrument of injustice."
This is not the first time Rehi has been arrested for his activism. He was arrested in Uttarakhand in 2007 and allegedly tortured in detention by the police, says Amnesty. He was released on bail in 2011. The allegations of torture were not investigated.
PUDR supports this claim: "Arrested in December 2007, alleged to be a most-senior Maoist leader, Prashant was kept in solitary confinement through most his 3 year 8 month stay in the jail. Once released on bail, Prashant took upon himself to visit those imprisoned as Naxalites all over the country and to help them obtain access to a lawyer. To this end, he was regularly travelling to across the country collecting details of cases and reaching the same to lawyers."