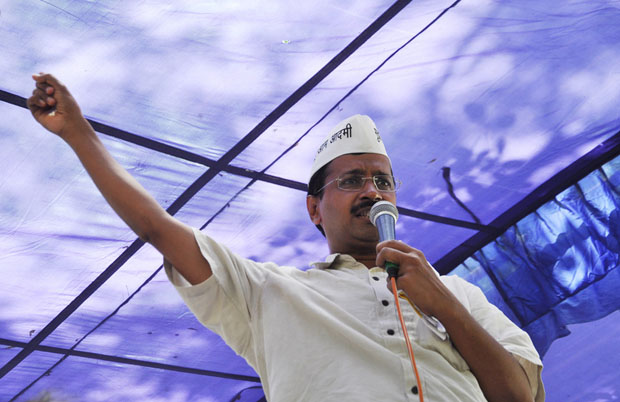 Arvind Kejriwal on the campaign trail (Pic Index on Censorship)
"A big challenge for 2014 will be to utilize new tools and tactics for positive change – while reining in the efforts of those who are thinking just as hard about how to use tech to steal, spy or stifle dissent," writes Human Rights Watch's director, communications Emma Daly in a piece in CNN.
In 'Why tech is a double-edged sword for human rights' Daly catalogues a series of events in which the use of technology has either helped or hindered upholding of human rights. Leading the rest of course was digital technology: "The technological advances that enabled the Arab Spring and empowered citizen journalists were exposed as facilitating unfettered surveillance worldwide and outstripping legal protections. We learned that Big Brother, a standby of totalitarian regimes, is also operating in Washington DC."
But two articles in Index on Censorship (IoC) website, one dated November 21 and the other January 6, are a vivid demonstration on how moderately repressive governments attempting to stifle the free flow of information (unlike those that are outright totalitarian) fight a losing battle when they try to impose censorship by controlling the internet.
In her research paper 'India: digital freedom under threat?' published in IoC, Melody Patry writes about the stifling of independent voices on the internet in India through harsh regulations and shadowy threats. She says, "India is the world's largest democracy and protects free speech in its laws and constitution. Yet, freedom of expression in the online sphere is increasingly being restricted in India for a number of reasons- including defamation, the maintenance of national security and communal harmony, which are chilling the free flow of information and ideas. Many of the most restrictive laws and technical means used to enforce these restrictions are recent developments that have undermined India's record on freedom of expression."
But in less than two months another story on the same website shows only too clearly that the internet remains a magnet to those who want to use it for political messaging. In his post 'India: social media finally has its campaign in the sun,' Mahima Kaul argues how Aravind Kejriwal of the Aam Adam Party, the latest political sensation in India, defeated three times chief minister of New Delhi veteran Sheila Dixit on an anti-corruption platform, partly through the adroit use of social media.
"The Aam Aadmi Party and Arvind Kejriwal have certainly cornered the market on becoming heroes for promises made, aided by a masterful communication strategy. But there is more to this. Indians – residents of New Delhi – finally were able to participate in the interactive social media political campaign that they had previously only read about. The promise of an active democracy where the political leaders don't just dictate terms but actually solicit and respond to the common man is too tempting an offer to ignore."
This does not mean that Indian government officials and politicians who are paranoid about national security issues either from within India or outside, will not try enforcing restrictions citing security considerations. Worse, if citizen journalism and digital technology successfully challenges corruption which is Kejriwal's goal, there will be concerted moves to stifle internet freedom. But once politicians following Kejriwal's lead realise they are generally better served by an open internet than a censored one, it will be very difficult to apply restraints. It is only by such small, (selfish) incremental beginnings that freedom of information is strengthened.
Following the attacks on Google attributed to the Chinese government earlier this month, five United States senators are publicly urging Secretary of State Hillary Rodham Clinton and her State Department to support organizations that help people living under regimes such as China's and Iran's – which "often deny their populations access to Web news outlets and sites like Google, Facebook and Twitter," according to The New York Times – circumvent restrictions on Internet use.
In a letter written by Senator Sam Brownback (R-KS) and signed by Arlen Specter (D-PA), Jon Kyl (R-AZ), Ted Kaufman (D-DE), and Bob Casey Jr.(D-PA), Mrs. Clinton is asked to quickly spend $45 million that has been earmarked over the last two years to support Internet freedom but has not been spent.
In December, the State Department asked for financing proposals from organizations with technologies that "maximize free expression and the free flow of information and increase access to the Internet."
But the senators' letter argues that the guidelines for which organizations may submit a proposal are too restrictive. One criterion for funding is established presence in a country with a demonstrably repressive regime, an issue for many of the most popular web programs, which operate from U.S.-based servers.
Some critics are also asking whether the State Department has avoided spending the earmarked monies to support Internet freedom organizations with ties to Falun Gong, a spiritual movement that is suppressed in China, for fear of antagonizing the Chinese government.
"Officials at the State Department have sacrificed the interests of the demonstrators on the streets of Tehran, the interests of Google, and the principle of Internet freedom in closed societies on the altar of not making China go ballistic," Mike Horowitz, an adviser to the Global Internet Freedom Consortium, a group affiliated with Falun Gong that makes popular restriction-thwarting tools like Freegate, told the Times.
Mrs. Clinton has not yet publicly responded to the senators' letter or to these critiques.
After the June elections in Iran, the color green was used to symbolize freedom, protest, and the desperate desire for regime change. But in China, attempts at the most expansive internet censorship initiative also aligned itself with this color.
The Green Dam filtering system was supposed to be a part of a mandated program to be installed on every new computer in China, blocking out "harmful" content that would range from pornography to, say, the history of events taking place in Tiananmen Square. But after clear disagreement was voiced by the Chinese, the government is now backpedaling, saying that its intentions were misunderstood and it never planned to take the Green Dam so far.
"[China] floats new laws to gauge reaction. If the reaction is negative, the law oftentimes never comes into being,"said Dan Harris on his site, China Law Blog (as noted by CPJ). The government's decision to back off instead of pushing forward with even more force is a good sign that the country might be more willing to listen to its people.
Although the program will not be required on every computer, it will still be installed on public computers. And even without Green Dam, China's censored web will still ensure that any searches on Tiananmen Square won't suggest it is anything more than the largest urban plaza in the world.
"China is the benchmark, the gold standard, of Internet censorship," says Ken Berman whose company is working on a program called "feed over email" which will help users around the world get around internet censors. He told AFP, "The idea is to extend freedom of the Internet; freedom of the press, freedom of inquiry to those that want to know more." (Click here to read more about the project.)
The Chinese people will remain blocked from certain news and accurate information, but this latest move by the Chinese government can still be seen as a rare moment of progress in freedom and free speech.
Just one month after China's Great Firewall boosted internet blockades for the 20th anniversary of the Tiananmen Square Massacre, China has once again blocked social networking sites like Twitter, and has slowed internet and cell phone service in a vain attempt to keep unfiltered news from escaping the country. This in response to riots that began Sunday between two conflicting ethnic groups in western China.
But this time the government seems to know they can't keep the gory images or the staggering body count (topping 150 according to some reports) from reaching the rest of the world. For a country about to celebrate its 60th year of communism, internet censorship comes as no surprise, but unlike Iran's recent blanket censorship and ban on reporters during the post-election protests, China is so far welcoming foreign journalists.
On top of creating a press center and offering discounted hotel rooms, journalists were invited to tour Urumqi–the capitol of the western Xinjiang region where the riots originated–including visits to the hospitals treating over 1,000 wounded Han Chinese and Uighur protesters.
"Journalists are being taken by the govn't around the hospitals, and now to an area full of burned out Han shops," the Daily Telegraph's Malcolm Moore wrote on Twitter.
Twitter has made a name for itself due in part to its use as a runaround against censors everywhere from Moldova to Iran. This site is just one of the many that has made it impossible to seal information inside a city as China has tried to do both with the recent Tiananmen anniversary and with the Tibet protests last year.
With last month's backlash and embarrassing videos of plain-clothed guards trying to block reporters with opened umbrellas, perhaps China sees this as the better way to take control of the press–and it is hard criticize them for unrolling the welcome mat, no matter their intentions.
Knowing full well that the journalists are being used as pawns of government propaganda, one can only assume that they will look past what they are being spoon fed. And that presence and ability to see firsthand and report as they please can only be seen as a small victory for freedom of the press.
Background
The riots began on Sunday as a peaceful protest by the Uighur, a group of Muslim Chinese, for the alleged 25 Uighur factory workers that were killed in southern China. State media reported only two deaths in the incident and the disparity coupled with with wild rumors lead to increasing tensions. Accusations of unreported (and often untrue) violence from both the Uighur and the Han Chinese has continue to fuel the rage.
Both incoming and outgoing information is being censored in Iran as protests continue over the validity of the reelection of President Mahmoud Ahmadinejad. The Iranian government has reportedly disrupted the satellites of international media outlets and opposition websites, while unreliable cell phone and internet service is making communication increasingly difficult.
The BBC has announced that "heavy electronic jamming" coming from Iran has disrupted their satellites and blocked their broadcast in Iran, the Middle East, and parts of Europe. The interruptions began on Friday, election day, but had worsened by Sunday. BBC reporter John Simpson and his cameraman were briefly arrested and had their tapes confiscated right before filming this video of the protests.
Arab news channel Al-Arabiya, based in Dubai, announced that it was ordered to stop reporting for one week, while German reporters were banned from airing broadcasts and a Dutch broadcaster and cameraman were arrested and later ordered to leave Iran, according to Agence France-Presse (AFP).
In an apparent attempt to stop any plans for protest, social media sites including Facebook, and cell phone service was blocked on Saturday, and although phone service was restored by Sunday, Iranians reported that they were still unable to send text messages.
Reporters Without Borders is urging European countries not to recognize the results of the election due to the media censorship and arrest of journalists that has hindered any investigation into the fraud allegations.
"A democratic election is one in which the media are free to monitor the electoral process and investigate fraud allegations but neither of these two conditions has been met for Mahmoud Ahmadinejad's supposed reelection," RSF said.
The organization reports that at least 10 pro-opposition websites have been censored, and at least 14 journalists have been either arrested of gone into hiding.
Unlike recent incidents of censorship in China, Twitter seems to be flying under the censorship radar and many are moving to this platform to get their message out. News site Tehran Bureau reported that their website was inexplicable down and began Tweeting news from the protests. At the time of this post, their website was still unavailable in the U.S. ABC reporter Jim Sciutto was one of the first to move to Twitter to write on Saturday morning "Police confiscated our camera and videotapes. We are shooting protests and police violence on our cell phones."
After YouTube videos showing the riots and brutal police retaliation were allegedly removed, citizen journalists began posting their evidence on Live Leak, where many amateur videos can still be found.
When CNN's Christiane Amanpour asked Mahmoud Ahmadinejad (watch it here) about the arrests of opposition officials and if he could guarantee the safety of his opponent, he skirted the question completely and instead comparing the protesters to people coming out of a soccer game who might violate traffic laws and be arrested no matter who they are. When pressed by Amanpour, he continued to skirt the question.
The Iranian government has come out accusing the international media of exaggerating reports of the protests, which have still managed to form despite government attempts to keep its people from communicating. In response to that accusation we invite you to browse this collection of photos, this video, or this feed.
Reporters Without Borders ranks Iran 166th out of 173 countries in it's 2008 Annual Worldwide Press Freedom Index.
Click here our post from last week about the deteriorating state of freedom of the press in Iran.