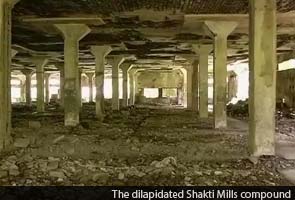 The Deserted Mill in Mumbai (Pic. courtesy NDTV)
The Indian photojournalist gang-raped while on assignment in Mumbai on August 23, fainted while giving evidence, Thursday, after identifying all four accused. BBC quoted Special Prosecutor Ujjwal Nikim telling reporters that she was "composed but 'under mental pressure.'"
The Indian news website DNAsaid, "'The rape survivor fainted during the deposition after which we stopped the proceedings and I requested the court that she be referred for medical help,' special public prosecutor Ujjwal Nikam told PTI."
The gang rape took place in an abandoned mill in Mumbai, where the survivor who interned for an English-language magazine and a male colleague had gone on assignment. The man was tied up before the woman was raped. Five persons were arrested of whom four stand trial in the court, while the fifth is being tried in a juvenile court. [See more details here]
The Mumbai episode followed the much-publicised incident in New Delhi in December, where a woman was gang-raped and killed when she was pushed off a moving bus. Following the outrage it created, the Indian government strengthened laws against sexual violence. Four persons convicted in September for the New Delhi crime were sentenced to death.
Both the BBC and DNA said, quoting the public prosecutor that the photojournalist had also identified pornographic video shown by her assailants during the assault.
On October 15, the Delhi-based NDTVquoted Nikam as saying the survivor's mother and "boss," (presumably the head of the organisation for which the survivor worked) had deposed in court.
"The accused Vijay Jadhav, Kasim Bengali, Salim Ansari and Siraj Rehman have been charged with rape, conspiracy, common intention, unnatural sex and charges under Information Technology Act. The Mumbai crime branch had on September 19 filed a 600-page charge sheet against the four accused," said DNA.
Both DNA and NDTV said three of the four accused in the case were also accused of another rape at the same place on July 31.
By Katie McNish
The New York Times last week reported on a dicey situation in Zambia, where a journalist's effort at activism backfired and landed her in jail.
Chansa Kabwela, the news editor of the Zambian daily The Post – which has been critical of the impoverished country's "corrupt" regime – was concerned about the national health care worker's strike. She was approached by a distraught man bearing photos of a gruesome incident: his wife, naked outside a local hospital where she had been denied medical attention by striking workers, giving birth to a child who died hours later. According to Ms. Kabwela, the man hoped that if The Post published the photos, more tragedies like his family's could be avoided. She and The Post's other editors decided that the images were too disturbing for publication, but felt they were important given the dire situation. On June 10, Ms. Kabwela sent copies of the photos to several women's groups and public officials, including the Vice President and Health Minister, urging them to "take quick action and end this strike."
But, Ms. Kabwela told the Times, "the government deliberately decided to misunderstand my intention," – to draw attention to the suffering caused by the strike – and instead dubbed the images "pornographic." On June 13, she was arrested and charged with "distributing obscene materials in order to corrupt the morals of society." She was released on bond but faces up to five years in prison.
Some have speculated that this incident has been a government response to The Post's negative editorials, though statements by both the government officials and some of women's groups that received the photos pointed only to the woman's nakedness, highlighting her lack of "privacy and dignity."
Ms. Kabwela issued an apology and the strike has since ended, but the war of words between the The Post and the Zambian government continues. Recent editorials have called President Rupiah Banda and his government's response to the incident an "abuse of power."