The steep decline in media freedom in the United States is reflected by Reporters without Borders (RSF) in its Press Freedom Index for 2014 by placing the US in position 46 – 13 behind what it occupied last year.
To bringing alive the statistics, partly by relating his own experience and partly by referring what had befallen his colleagues, was James Risen of the New York Times, Risen has been ordered by the Court of Appeals to give evidence in the trial of a whistleblower, Jeffrey Sterling, a CIA agent charged under the Espionage Act for leaking unauthorised information to Risen.
Risen was speaking at a press conference convened by RSF at the National Press Club in Washington DC on Tuesday to release the 2014 Press Freedom Index. Also on the panel, chaired by Delphine Halgand, RSF's director in Washington, were Huong Nguyen, a doctoral student at Indiana University's Maurer School of Law, cofounder of the Viet Youth for Democracy movement and a friend of jailed Vietnamese pro-democracy activist/blogger Nguyen Tien Trung, and Tolga Tanis, Washington correspondent for the Turkish newspaper Hurriyet.
Risen said the Obama administration was the most aggressive in the history of the US in prosecuting whistleblowers and investigating leaks. "(The administration) wants to limit information on national security and what people know on the war on terror," he said.
He went on to say that since normal oversight exercised within the bureaucracy such as by inspectors general in the Department of Defence, had "atrophied" and anyone going outside the chain of command to report grievances ran the risk of being targeted.
Halgand was no less critical in her opening remarks, "In the United States, the hunt for leaks and whistleblowers serves as a warning to those thinking of satisfying a public interests need for information about the imperial prerogatives assumed by the world's leading power. The United Kingdom (position 33) has followed in the US wake, distinguishing itself by its harassment of The Guardian."
Huong, speaking on press freedom in Vietnam and her friend Trung, said Trung founded Vietnamese Youth for Democracy movement. He was charged for propaganda against the state and has been jailed for seven years and three years probation in 2009. Huong said that part of Vietnam's punishment of pro-democracy activists was harassing families of activists and Trung's was not spared.
She also spoke laws deterring freedom of information on the internet and the use of administrative measures to deliberately make life difficult for bloggers to work. Huong said it had resulted in self-censorship.
"Independent news providers are subject to enhanced internet surveillance, draconian directives, waves of arrests and sham trials. Vietnam continues to be the second largest prison for bloggers and netizens," said RSF.
Speaking about Turkey, Tanis said, "Gezi Park was a turning point. Until Gezi, [Prime Minister Tyyip Erdogan's] government controlled the media. He said the ruling party was able to achieve this by creating a media supporting it and suppressing those against it."
However with the confrontation at Gezi Park, where 150 journalists were injured and 39 detained, the media had become bolder and more willing to take on the government. It was because of this evolution that the media was willing to challenge the government on issues of corruption he said. The corruption scandal that broke out last December has resulted in senior members of Erdogan's government resigning and the regime clamping down further on internet freedom through Law 5651.
"There are number of examples of governments abusing the 'fight against terrorism.' In Turkey, (154th) dozens of journalists have been detained on this pretext, above all, those who cover the Kurdish issue," said Halgand.
Please click here to read RSF's Press Freedom Index 2014.
Yang Hui
Two methods of censoring media in China – by regulation, and by targeting citizen journalists – came under attack recently. The country witnessed the authorities' growing realisation that the world's second largest economy cannot function without the internet despite the web's use by dissidents to challenge the Communist Party-dominated state.
The Hong Kong-based South China Morning Post wrote earlier this week that measures are to be introduced to make foreign social media and the New York Times blog accessible to users within the free trade zone at Pudong in the country's commercial capital of Shanghai. The free trade zone is to be inaugurated next month.
While acknowledging the limited availability of these facilities – the measures will apply only to a 30-square mile area, populated mostly by foreigners and the commercial elite – the Paris-based Reporters without Borders (RSF) welcomed it as a sign of technology driving change that political authoritarianism finds hard to prevent.
"By taking this decision, the Chinese government is acknowledging that Internet censorship is bad for business. We regret that this lifting of censorship will apply to just a limited part of the country and that the reasons behind it are purely economic. Targeted mainly at foreigners, this measure will probably not benefit the Chinese population," RSF said
Meanwhile, a different battle was being waged on the other form of censorship – targeting citizen journalists who highlight crime by high-ranking state officials – far from the rarefied environment of Shanghai's commercial district. On September 22, police in Zhangjiachuan, in the Gansu Province, arrested 16-year-old Yang Hui for posting online comments about the involvement of the police in the death of a karaoke bar owner. RSF said that Yang was arrested for "provocation and disruption," after his comments were re-tweeted 500 times.
According to the New York Times, Yang was among the "first people to be charged under new regulations that criminalize the spreading of online rumours with up to three years in jail." But as a robust online campaign exploded with over 10,000 people voicing their support for him, he was released after the authorities said Yang had confessed to his crime and punished. "Hours after his release, he posted online a photograph of himself flashing a victory sign. His shirt read, 'Make the Change,'" the Times said.
"'With the arrest of this kid, I think the public saw this rumour campaign for what it really is: a devious attempt to crush normal online expression,' said Zhou Ze, a lawyer in Beijing who sought to rally public support for Mr. Yang's case through his own account on Sina Weibo, China's most popular microblog service," the account by Times' Andrew Jacobs continues.
The rumour campaign he refers to are the recent regulations brought in by Beijing to stifle any online dissent as a crime. "Those arrested include Xu Zhiyong, a prominent lawyer who had called on officials to publicly disclose their financial assets, and Xue Manzi, a Chinese-American investor who often railed against injustice to his 12 million microblog followers," says the Times. (Please read this blog's account of the arrests here.)
While these moves by the Chinese authorities are not indicative of the larger reality of draconian measures against the publication of any criticism of the government or the Communist Party, it shows only too well the dilemma posed by the internet to autocratic governments. While they need the internet to for the day-to-day running of the government, the economy and administration, cyberspace defies control the way traditional media does. It makes governance without consent all the more difficult.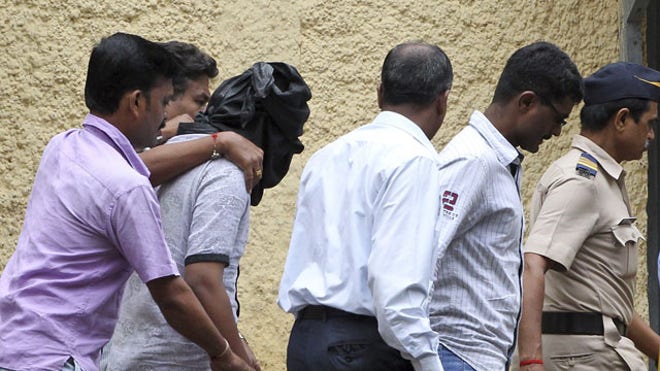 Accused in the Mumbai rape of photojournalist (Photo courtesy Fox News)
The rape of a 22-year-old trainee photojournalist of an English-language magazine in Mumbai, India on Thursday, August 22, has reignited concern of the use rape as weapon to silence journalists who are on reporting assignments in lonely and hostile environments.
In situations of armed conflict rape is declared a war crime used by perpetrators with a definite objective in mind – as a form of terrorising individuals and populations into submission. In certain conflicts, journalists, especially women, are raped not only because of their professional role, but also they belong to an ethnic, or tribal or political group that the opposing force is targeting.
"Many of the assaults fall into three general types: targeted sexual violation of specific journalists, often in reprisal for their work; mob-related sexual violence against journalists covering public events; and sexual abuse of journalists in detention or captivity," writes Lauren Wolfe in 'The silencing crime: Sexual violence and journalists.' The report was written for the New York-based Committee to Protect Journalists (CPJ) in June 2011.
Under this three-fold categorisation, the case of the photojournalist from Mumbai appears to be targeted sexual violation as reprisal for her work.
"The authorities must do everything possible to identify and arrest those responsible for this crime and bring them to trial. They must also guarantee the safety of journalists and ensure that this form of attack, one of the worst banes of Indian society, does not recur," said the Paris-based Reporters without Borders (RSF) in a statement.
Five suspects have been arrested by the Mumbai police following the survivor's description BBC reported. It quoted the Press Trust of India that the outrage has caused India's Maharashtra State Chief Minister Prithviraj Chavan to announce, "The case will be tried in a fast-track court to ensure speedy justice to the victim."
The incident happened when the photojournalist went with a male colleague to an abandoned mill in the city on a photo-shoot. According to RSF the two were confronted by the gang which had accused them of trespassing on private property. The man was also reportedly assaulted and secured by the attackers.
As always, horrendous incidents like this bring up memories of similar incidents. One such is the rape of a Dutchwoman on June 27, while she was photographing events at Tahrir square, Egypt. But since the person was not identified it is not known if she was a journalist.
What however is a ray of hope in an otherwise miserable business is the young photojournalist's defiance. The BBC said, "The victim, who is in hospital with multiple injuries, has said she is anxious to return to work after the attack. 'Rape is not the end of life. I want the strictest punishment for all the accused,' she said."
It was the same defiance that ultimately persuaded Jineth Bedoya, who was raped by rightwing paramilitaries in Colombia while reporting for El Espectador in May 2000. According to CPJ, it had taken Bedoya nine years to speak out about the ordeal she underwent.
"Since she began speaking out, Bedoya said, she has encountered a number of journalists—from Colombia to the United States to Europe—who had been raped or sexually abused but chose to stay quiet because of cultural and professional stigmas. By making her own case more visible, Bedoya said, she hopes to encourage these journalists to 'denounce what's happened to them and be able to ask for justice,'" said Wolfe in the CPJ report.
Wolfe concludes: "Sexual attacks against journalists have the effect of silencing the messenger and blocking the dissemination of news and information. In the same manner as other types of attacks, sexual aggression is a direct assault on the internationally guaranteed rights to freedom of expression and access to information."
But the survivor of the Mumbai rape incident, Bedoya and a number of other female and male journalists who are speaking out about their experiences and denouncing the perpetrators might, hopefully, be the beginnings of change.
Haji Abdul Razzak (Courtesy RSF)
The mutilated body of another murdered journalist – Haji Abdul Razzak of the Balochi-language daily, Tawar – who went missing in March was discovered in Karachi on Wednesday, August 21. He had been tortured to death.
According to the Paris-based Reporters without Borders (RSF) Razzak's body, found with that of another unnamed person's, was so badly mutilated that the family took 24 hours to identify it.
"Journalists in Balochistan and the Tribal Areas are constantly the targets of intimidation and violence, and the impunity enjoyed by those who murder them just sustains this climate of terror. The authorities must end it at once by pursuing this investigation to its conclusion," RSF said.
Four Balochs – Imran Shaikh, Saifur Rehman and Mohammad Iqbal killed a double bombing in Quetta and Mehmood Ahmed Afridi gunned down in Karat – are among a total of seven journalists killed in Pakistan this year, RSF reported.
Meanwhile, the statement by the New York-based Committee to Protect Journalists (CPJ) delineates the intimidating environment in which Razzak and other journalists work in Pakistan. CPJ said that Razzak had left the Tawar briefly after a journalist from the same newspaper,
Javed Naseer Rind's body was found in November 2011. Rind's body had bullet wounds in the head and chest and bore marks of torture. But Razzak returned to work in 2012.
CPJ said that at a press conference at the Karachi Press Club, Razzak's family members had accused "Pakistani intelligence agencies of being responsible for the abduction, but did not elaborate." RSF designates intelligence services with two others – Mullah Mohamad Omar and the Balochi separatists – as "predators of the media" in Pakistan.
Describing the daily Tawar as a "Urdu-language pro-Baluch nationalist newspaper," CPJ says it "is known for its coverage of the many conflicts between rival groups and the government." Both media watchdogs said Razzak was linked to a political party, with the CPJ going on to say it was the Balochi National Movement. RSF urged the Pakistani authorities to investigate Razzak's murder not only to establish the motive but "determine whether it was linked to his work as a journalist."
"Journalists from Baluchistan face pressure from a number of sources: pro-Taliban groups and Pakistani security forces and intelligence agencies, as well as Baluch separatists and state-sponsored anti-separatist militant groups," CPJ observed
In an interviewto the Baloch Hal, well-known Balochi journalist Shezada Zulfiqar, replying to the question why journalists in Balochistan are so vulnerable replied, "Because they are before the public. They also go to separatist leaders, intelligence agencies, land lords, Sardars, Nawabs, etc. In these circumstances, journalists should be very cautious not to cross the 'invisible red line.'"
Zulfiqar's urges unity within the journalist fraternity for their protection. "Then they shall neither annoy security forces nor separatist elements by reporting anything against them."
Faisal Mohamed Salih
Faisal Mohamed Salih, 53, winner of the 2013 Peter Mackler Award for Courageous and Ethical Journalism, is a celebrated Sudanese journalist. But he is much more than that. In a country where democratic freedoms and human rights are violated with impunity, he understands that only by fighting on multiple fronts, including for other human rights defenders, can the battle against political barbarism be won.
One such human rights defender is 25-year-old Safia Ishag. A student at Khartoum University in 2009 where she read fine arts, she joined Girifna (We are Fed Up) a pro-democracy movement that opposed the ruling NCP of President Omar al-Bashir. It was a time when the country was gearing up for elections. And as an activist Ishag helped people register to vote.
In January 2011, encouraged by the Arab Spring Ishag was among those who called for democracy in Sudan, attended political rallies and distributed flyers. The protests were met with arrests of many activists. (Incidentally, journalists too were arrested in these crackdowns by the al-Bashir government. Read Reporters without Borders (RSF) reports here)
"A couple weeks later, Ishaq was kidnapped by National Intelligence and Security Services (NISS) agents and taken to a house, she said. She described being tortured and gang raped multiple times. In between rapes and beatings, they told her they knew she had attended the rallies of January 30 and handed out flyers," writes Louise Hogan, in the blog Women under Siege.
The saga does not end here. Ishag was one of the few women, perhaps the only one in Sudan who has publicly spokenthe torture she underwent in the hands of the NISS.
In March 2011 after Ishag went public about her ordeal, Salih and other journalists denounced the NISS in their writings. The attorney general's office summoned him and two others to be interrogatedafter the security forces accused them of spreading "false information." Harassment in the hands of state authorities continued well into August with other journalists too being investigated or tried before courts for reporting the torture of Ishag. The NISS said Saleh was defamingit by associating its officers with the rape.
Salih's commitment to empowering defenders of democracy and human rights did not stop with writing about activist Ishag. As director of the NGO Teeba Press he also trains journalists. In countries where journalists realise how fragile the defences of democracy are they take it as a duty to train others who can carry on the good work in the event they themselves are unable to do so for some reason.
"Of course, it's not safe to speak in Sudan. We are trying to speak out and we are paying the price for it," Salih has said. Work is trying under repressive governments where censorship is the norm and self-censorship sadly closes the few windows of opportunity that open to test the limits of media freedom. So he spoke to the international network Al Jazeera on April 25 last year. His comments were a response to al-Bashir's remarks about the conflict in South Kardofan.
The NISS retaliated by asking him to report daily to its offices for 13 days. He was not interrogated about anything but made to sit in office throughout the day. On May 8 when he failedto report to the NISS he was arrested and kept incommunicado and without food or drink for 12 hours. Rearrested on May 9 he was detained for six days. On May 15 the State filed criminal charges for not cooperating with authorities. On May 30, he was acquittedby court.
Faisal Mohammed Salih demonstrates the resilience and courage of journalists all over the world who have to contrive different means to beat state repression. They do it not only by writing about injustice and abuse, but crusading on behalf of the voiceless. Not just exposing criminals, but training others to do so. Risky work indeed, but there is no alternative.
For more on Salih read here
For more on recent development in Sudan's media read here