Protesting internet censorship in Ankara (Pic. hurriyetdailynews.com)
On Wednesday, February 5, Turkey adopted Law 5651 that imposes greater restrictions on an already stifled media. During its passage through parliament, the bill came under fire from the opposition and was later criticised by sections of Turkey's business community and the European Parliament. Notwithstanding that, the new reality in Turkey will be government agencies authorised to block websites without a judicial order and carry out surveillance through deep packet inspection.
AFPquoted Bilgi University's law professor, Yaman Akdeniz saying the powers given to the Telecommunications Communications Presidency (TIB) as "Orwellian" and that the measures will "move Turkey away from the European Union in terms of Internet policy, perhaps a few steps closer to China."
The AFP report included reactions from European regional organisations OESC and the European Union: "Dutch MEP [member of the European Parliament] Marietje Schaake said that in Turkey's EU accession talks, Brussels needed to tell Ankara such legislation is 'unacceptable' and that 'the rule of law and fundamental freedoms are at the centre of EU policy.'"
Prime Minister Tyyip Erdogan and his government have been facing mounting protests against repression and corruption. Last year Turkey violently suppressed a popular protest in Istanbul's Gezi Park that saw six deaths. Later last year the media highlighted stories of large-scale corruption that implicated senior politician in the government party. On both issues Erdogan blamed the media – especially the social media – of spreading falsehood and creating unrest. He said during the Gezi Park crisis, "There is a problem called Twitter right now and you can find every kind of lie there."
"Erdogan, Turkey's all-powerful leader since 2003 is openly suspicious of the Internet, branding Twitter a "menace" for helping organise mass nationwide protests in June in which, six people died and thousands injured," says AFP.
"Social media was not Erdogan's biggest problem. His biggest problem was that citizens whose lives and nation harmed by his rule, were fighting back, and they had found an effective medium through which to organise and express their protest. Twitter was the problem because its users had identified Erdogan as the problem," writes Sarah Kendzior, who writes on politics and the media in a post to Al-Jazira.
Kendzior says that when the powerful condemn the medium it is the marginalised messenger they are after. "It is a tactic reminiscent of dictators facing a challenge to power: Target the medium, slander the messenger, ignore the message."
Turkish Police fire water cannon at protests against internet bill (CPJ)
As Turkey continues the crackdown on free speech by targeting journalists and media organisations, as well as stifling internet freedom through legislative amendments, the New York-based Freedom House published, Monday, a report on curbs on media freedom over the past year, but especially following the corruption scandal involving Prime Minister Tayyip Erdogan's government.
Democracy in Crisis: Corruption, Media and Power in Turkey says controlling free debate within the country is not only "further alienating citizens and could potentially threaten the country's stability," but "could also put at risk Turkey's integration with Europe and its strong alliance with the United States."
"The crisis in Turkey's democracy is not a future problem," said David J. Kramer, president of Freedom House and a co-author of the report. "The media face tremendous pressure from the government, and the government now has widened its attacks to other institutions."
The corruption scandal unleashed a new wave of protests in which media organisations and journalists were targeted. "New anti-government demonstrations in connect with a major corruption scandal in late December saw more police violence. A dozen journalists were injured by police while covering the protests. The Turkish Journalists' Union (TGS), which said journalists' equipment was also destroyed, has demanded a judicial investigation," said the Paris-based Reporters without Borders (RSF).
On January 17, eight TV stations were issued a warning by the government that they were violating "presumption of innocence" because of their disclosures about the corruption scandal that allegedly involves senior government politicians. "Shortly after the first arrests of high-level suspects on 17 December, the eight TV stations broadcast images of bundles of foreign currency and the shoeboxes allegedly used to store bribes – details that were widely reported in the rest of the Turkish media," said RSF.
Meanwhile, triggered by the same embarrassment, the Turkish parliament was scheduled to vote on a new Bill on February 3 that would censor further already restrictive internet freedom in the country. The New York-based Committee to Protect Journalists (CPJ) said the amendments to Law 5651, "would allow the government to block individual URLs without prior judicial review, mandate Internet data retention for periods of up to two years, and consolidate Internet Service Providers (ISPs) into a single association, among other changes."
Describing the alarming web of censorship contemplated in the amendments Geoffrey King, CPJ's internet advocacy coordinator said, "[a]s Turkey's Alternative Informatics Association member Ahmet Sabancı told Index on Censorship, URL blocking would require the government to rely on deep packet inspection, a particularly intrusive form of online surveillance, to help ensure the effectiveness of its new approach."
The Freedom House report, cataloguing the ever-growing restriction on the media, including wiretapping journalists covering national security stories, referred to "The government is also threatening the separation of powers by putting the judiciary, including criminal investigations, under direct control of the Ministry of Justice. The crisis of democracy in Turkey is not a future problem—it is right here, right now."
Click hereto read the Freedom House Report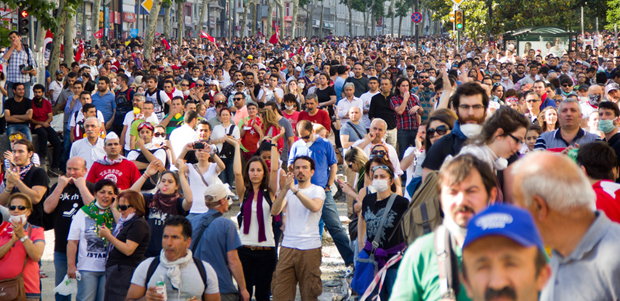 Demonstrations at Gezi Park (Pic courtesy Index on Censorship)
Turkish author and playwright Meltem Arikan who has campaigned long and hard against patriarchy, in an essay and interview with Index on Censorship (IoC) highlights the role of the artist in resisting repression to bring about democratic change, and the part played by social media in that transition.
Arikan was charged as one of the conspirators behind the citizen protests last year in Gezi Park by senior Turkish officials. Her essay, written after she fled into exile in the UK, is in the form of a journal. It highlights Turkish mainstream media wilfully ignoring the people's outrage expressed by people 'occupying' the park, which the more nimble social media – especially twitter – is able to outwit. As interesting are the slogans and graffiti on the walls scrawled by protestors brought face-to-face with officialdom armed with pepper spray and tear gas.
"They learned a valuable lesson — censoring the media had not prevented the people from finding out what was going on. In fact it had the opposite effect. It spawned thousands of new social media users, who understood — some for the first time — what young people have known all their lives, that new media has transformed the way we share and access information and ideas," Arikan writes.
Click hereto read the essay
In the interview with IoC's Julia Farrington, Arikan speaks about her play Mi Minor which not only discusses democratisation by challenging the established, oppressive, patriarchal order though social media, but also engages the audience through role playing and the social media.
"During the play the audience could choose to play the President's deMOCKracy game of the, or support the Pianist's rebellion against the, system. The Pianist starts reporting all the things that are happening in Pinima through Twitter, which starts a Role Playing Game (RPG) with the audience. Mi Minor was staged as a play where an actual and social media oriented RPG was integrated with the actual performance. It was the first play of its kind in the world," she says.
Click hereto read the full interview
Courtesy IFJ
Turkey
's dubious reputation as the world biggest jailor of journalists was reinforced on November 5 when four more journalists were imprisoned – three for life – for
"trying to overthrow constitutional order by means of violence" and being members of a political body that Ankara considers a terrorist organisation. The incarceration comes just three months after an Istanbul court slapped politically-motivated prison sentences on 12 other journalists – one of them for life – allegedly for their part in the Ergenekon conspiracy. There are numerous other acts of media repression the Turkish government is accused of, including assaults on journalists during anti-regime protests and targeting media organisations of the Kurdish minority.
Füsun Erdogan, head of Ozgür Radyo and two journalists of the weekly Atlim – its editor Ibrahim Cicek and reporter Bayram Namaz– were given life, while Atilim'spublisher Sedat Senoglu, was sentenced to seven and a half years – all four charged for being members of the Marxist-Leninist Communist Party (MLKP) that Turkey has banned as a terrorist organisation. According to the indictment the four journalists were arrested while preparing for the party's fourth congress at a place where the police claim firearms were also discovered.
The trials were marred by procedural anomalies including long pre-trial detention and the judge refusing the defence's request to examine documents produced by the police.
"These extremely harsh sentences have ended a trial marked by violations of defence rights and unacceptably long pre-trial detention for the main defendants. Despite a grave decline in her state of health, Füsun Erdogan spent more than seven years in prison before being sentenced. So did Bayram Namaz. What happened to the presumption of innocence? Paris-based Reporters without Borders (RSF) asked.
RSF went on to say that Erdogan, Cicek and Namaz were given an additional 3000 years in prison for their responsibility for 150 acts of violence by MKLP as they held positions of leadership in the party.
Earlier, Erdogan who suffers from multiple health issues wrote in a letter to RSF that she had been held without trial for two years and although police accounts stated she and her husband Cicek were arrested at Ocakli where MLKP's congress was to take place, in actuality they were detained while leaving a friend's home in another town.
"We urge the judicial system to take account [breaches in due process] on appeal, and to re-examine the case with complete impartiality. But that could take some time, given the Turkish judicial system's slowness. Meanwhile, the journalists should be released conditionally at once," RSF said.
In a statement the Brussels-based International Federation of Journalists (IFJ) referred to the imprisonment of the journalists in relation to Turkey's obligations to media freedom as the country reopened negotiations to be admitted to the European Union.
"As the European Federation of Journalists (EFJ) reconfirmed that 'journalists are not terrorists' on the Stand Up For Journalism Day on 5 November, the verdict that is based on political influence have shocked the journalist community in Europe and seriously affect media freedom and journalists' rights," IFJsaid.
IFJ also reminded the "European Commission that the EU accession of Turkey must comply with the European standards on freedom of expression and information."
On November 6, PEN Norway asked a delegation of its members in Turkey to "react sharply and raise the issue with the host."
As of December 2012, Turkey had in jail 49 journalists, said CPJ. There were more detentions this year. In August, 12 journalists were convicted and jailed, allegedly for their involvement in the Ergenekon conspiracy. The conspiracy refers to a military coup hatched between 2004 and 2007 against the Prime Minister Tayyip Erdogan's government.
Refering to their arrests over the conspiracy Nina Ognianova, Europe and Central Asia Program Coordinator of the New York-based Committee to Protect Journalist (CPJ) said, "These Turkish journalists, several of whom have already spent several years behind bars, have been swept up by an overly broad prosecution that equates journalistic coverage unfavorable to the government with actual anti-state activities."
To read this blog's posts on journalists and Ergenekon conspiracy, please click here.
Journalists are regularly arrested under Turkey's counterterrorism laws. At a panel discussion on press freedom in Turkey on March 27, Susan Corke of the New York-based Freedom House referred to a report by Carnegie which said that 68% of journalists detained in Turkey in 2012 were held under counterterrorism laws.
To read this blog's post on Turkey's use of counterterrorism laws to restrain journalists please click here.
On September 16, Joel Simon, Executive Director of the New York-based Committee to Protect Journalist in a letterTurkish Prime Minister Tayyip Erdogan called for far reaching reform of the media.
RSF places Turkey 154th of 179 countries in its Media Freedom Index