Protesting internet censorship in Ankara (Pic. hurriyetdailynews.com)
On Wednesday, February 5, Turkey adopted Law 5651 that imposes greater restrictions on an already stifled media. During its passage through parliament, the bill came under fire from the opposition and was later criticised by sections of Turkey's business community and the European Parliament. Notwithstanding that, the new reality in Turkey will be government agencies authorised to block websites without a judicial order and carry out surveillance through deep packet inspection.
AFPquoted Bilgi University's law professor, Yaman Akdeniz saying the powers given to the Telecommunications Communications Presidency (TIB) as "Orwellian" and that the measures will "move Turkey away from the European Union in terms of Internet policy, perhaps a few steps closer to China."
The AFP report included reactions from European regional organisations OESC and the European Union: "Dutch MEP [member of the European Parliament] Marietje Schaake said that in Turkey's EU accession talks, Brussels needed to tell Ankara such legislation is 'unacceptable' and that 'the rule of law and fundamental freedoms are at the centre of EU policy.'"
Prime Minister Tyyip Erdogan and his government have been facing mounting protests against repression and corruption. Last year Turkey violently suppressed a popular protest in Istanbul's Gezi Park that saw six deaths. Later last year the media highlighted stories of large-scale corruption that implicated senior politician in the government party. On both issues Erdogan blamed the media – especially the social media – of spreading falsehood and creating unrest. He said during the Gezi Park crisis, "There is a problem called Twitter right now and you can find every kind of lie there."
"Erdogan, Turkey's all-powerful leader since 2003 is openly suspicious of the Internet, branding Twitter a "menace" for helping organise mass nationwide protests in June in which, six people died and thousands injured," says AFP.
"Social media was not Erdogan's biggest problem. His biggest problem was that citizens whose lives and nation harmed by his rule, were fighting back, and they had found an effective medium through which to organise and express their protest. Twitter was the problem because its users had identified Erdogan as the problem," writes Sarah Kendzior, who writes on politics and the media in a post to Al-Jazira.
Kendzior says that when the powerful condemn the medium it is the marginalised messenger they are after. "It is a tactic reminiscent of dictators facing a challenge to power: Target the medium, slander the messenger, ignore the message."
Supranational Cyberspace joined the Risk List in 2013, which the New York-based Committee to Protect Journalists (CPJ) has developed to flag countries where media freedom is in significant decline. Countries that have displayed the most alarming regress in 2013 are: Egypt, Russia, Syria, Vietnam, Turkey, Bangladesh, Liberia, Ecuador, and Zambia.
CPJ said that the decentralised nature of the internet had once provided protection to journalists investigating and reporting controversial issues more than the traditional media. However today, as the documents of NSA contractor Edward Snowden revealed, global surveillance by the United States and its allies was a threat to the work journalists do by compromising privacy of their communication.
CPJ quoted Marietje Schaake, a member of the European Parliament and leader on Internet freedom issues: "'Countries who seek to gain control over their people through the Internet have their own agendas. They are in search of larger governmental control or even censorship online. We must ensure the NSA-triggered debate does not become a race to the bottom.'"
CPJ said other trends witnessed in 2013 include:
Deterioration in several indicators, including fatalities and censorship, in Egypt
New legislation to stifle free speech in Ecuador, Liberia, Russia, Vietnam, and Zambia
Firings and forced resignations of journalists in Turkey at the government's behest
Targeted violence against journalists in Bangladesh and Russia, and a soaring rate of abductions in Syria
Crackdowns on online journalism in Russia, Vietnam, and Bangladesh
Turkish Police fire water cannon at protests against internet bill (CPJ)
As Turkey continues the crackdown on free speech by targeting journalists and media organisations, as well as stifling internet freedom through legislative amendments, the New York-based Freedom House published, Monday, a report on curbs on media freedom over the past year, but especially following the corruption scandal involving Prime Minister Tayyip Erdogan's government.
Democracy in Crisis: Corruption, Media and Power in Turkey says controlling free debate within the country is not only "further alienating citizens and could potentially threaten the country's stability," but "could also put at risk Turkey's integration with Europe and its strong alliance with the United States."
"The crisis in Turkey's democracy is not a future problem," said David J. Kramer, president of Freedom House and a co-author of the report. "The media face tremendous pressure from the government, and the government now has widened its attacks to other institutions."
The corruption scandal unleashed a new wave of protests in which media organisations and journalists were targeted. "New anti-government demonstrations in connect with a major corruption scandal in late December saw more police violence. A dozen journalists were injured by police while covering the protests. The Turkish Journalists' Union (TGS), which said journalists' equipment was also destroyed, has demanded a judicial investigation," said the Paris-based Reporters without Borders (RSF).
On January 17, eight TV stations were issued a warning by the government that they were violating "presumption of innocence" because of their disclosures about the corruption scandal that allegedly involves senior government politicians. "Shortly after the first arrests of high-level suspects on 17 December, the eight TV stations broadcast images of bundles of foreign currency and the shoeboxes allegedly used to store bribes – details that were widely reported in the rest of the Turkish media," said RSF.
Meanwhile, triggered by the same embarrassment, the Turkish parliament was scheduled to vote on a new Bill on February 3 that would censor further already restrictive internet freedom in the country. The New York-based Committee to Protect Journalists (CPJ) said the amendments to Law 5651, "would allow the government to block individual URLs without prior judicial review, mandate Internet data retention for periods of up to two years, and consolidate Internet Service Providers (ISPs) into a single association, among other changes."
Describing the alarming web of censorship contemplated in the amendments Geoffrey King, CPJ's internet advocacy coordinator said, "[a]s Turkey's Alternative Informatics Association member Ahmet Sabancı told Index on Censorship, URL blocking would require the government to rely on deep packet inspection, a particularly intrusive form of online surveillance, to help ensure the effectiveness of its new approach."
The Freedom House report, cataloguing the ever-growing restriction on the media, including wiretapping journalists covering national security stories, referred to "The government is also threatening the separation of powers by putting the judiciary, including criminal investigations, under direct control of the Ministry of Justice. The crisis of democracy in Turkey is not a future problem—it is right here, right now."
Click hereto read the Freedom House Report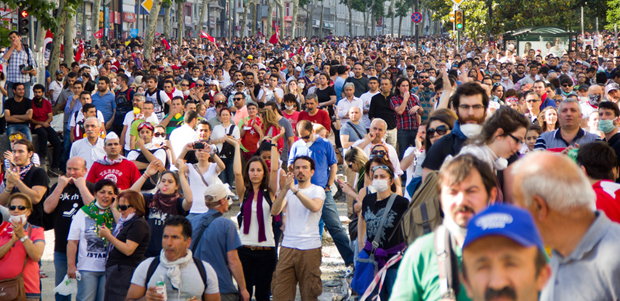 Demonstrations at Gezi Park (Pic courtesy Index on Censorship)
Turkish author and playwright Meltem Arikan who has campaigned long and hard against patriarchy, in an essay and interview with Index on Censorship (IoC) highlights the role of the artist in resisting repression to bring about democratic change, and the part played by social media in that transition.
Arikan was charged as one of the conspirators behind the citizen protests last year in Gezi Park by senior Turkish officials. Her essay, written after she fled into exile in the UK, is in the form of a journal. It highlights Turkish mainstream media wilfully ignoring the people's outrage expressed by people 'occupying' the park, which the more nimble social media – especially twitter – is able to outwit. As interesting are the slogans and graffiti on the walls scrawled by protestors brought face-to-face with officialdom armed with pepper spray and tear gas.
"They learned a valuable lesson — censoring the media had not prevented the people from finding out what was going on. In fact it had the opposite effect. It spawned thousands of new social media users, who understood — some for the first time — what young people have known all their lives, that new media has transformed the way we share and access information and ideas," Arikan writes.
Click hereto read the essay
In the interview with IoC's Julia Farrington, Arikan speaks about her play Mi Minor which not only discusses democratisation by challenging the established, oppressive, patriarchal order though social media, but also engages the audience through role playing and the social media.
"During the play the audience could choose to play the President's deMOCKracy game of the, or support the Pianist's rebellion against the, system. The Pianist starts reporting all the things that are happening in Pinima through Twitter, which starts a Role Playing Game (RPG) with the audience. Mi Minor was staged as a play where an actual and social media oriented RPG was integrated with the actual performance. It was the first play of its kind in the world," she says.
Click hereto read the full interview
(Pic courtesy The Guardian)
India ranks first among democracies and third in the world, in the number of journalists killed in the line of duty this year.
According to figures just published by Reporters without Borders (RSF), 71 journalists killed in 2013 overall, which is a slight decrease from the 88 killed in 2012. However, abduction of journalists in 2013 has risen alarmingly: from 38 last year to 87 in 2013.
As these statistics were published, RSF's Secretary General Christophe Deloire called for an amendment of the statute of the International Criminal Court (ICC) to define the "deliberate attacks on journalists, media workers and associated personnel" as war crimes. He was speaking on Friday at a special UN Security Council meeting in New York on protecting journalists where RSF presented a series of recommendations on improving legislation to protect journalists better.
Three countries – Syria (10 journalists and 35 citizen journalists), Somalia (7 journalists) and Pakistan (8 journalists) retained places among the top five 'deadliest countries for journalists' from last year. India, with eight journalists killed, assumed third position – behind Syria and Somalia and one place ahead of its South Asian neighbour. The Philippines occupies position five, also with eight deaths. Regionally Asia accounts for the highest number of journalists killed.
"The toll of eight journalists killed in connection with their work in 2013 broke all records in India. Criminal gangs, demonstrators and political party supporters were to blame in some cases. But local police and security forces were also guilty of rarely-punished violence and threats against reporters, forcing them to censor themselves," said RSF.
India and the Philippines replaced Brazil and Mexico, which were among the top five deadliest countries for journalists in 2012. RSF reports however that five journalists were killed in Brazil in 2013 (same as in 2012), while in Mexico two journalists were killed while three were abducted this year.
Among the 87 journalists abducted in 2013, 49 were kidnapped in Syria and 14 in Libya. As of December 18, 22 Syrian news providers and 18 foreign journalists are missing. "Foreign journalists were increasingly targeted by the government and by Islamists groups such as Islamic State in Iraq and the Levant (ISIS) and Jabhat Al-Nosra, but their Syrian colleagues were the most exposed," RSF said.
This year ranks more poorly compared 2012 in the number of physical attacks and threats to journalists. "Journalists were systematically targeted by the security forces in Turkey, in connection with the Gezi Park protests, and to a lesser extent in Ukraine in connection with the Independence Square (Maidan) protests," said RSF. There were also more than 100 cases of violence and harassment of journalists from Mexico, Colombia, Egypt, Iraq, Bangladesh, Pakistan and India.
Violence and threat has also forced journalists to flee into exile. Syria leads the numbers with 31 professional and citizen journalists many of whom RSF says "are now in Turkey, Jordan, Lebanon or Egypt, destitute and vulnerable." Syria is followed by Iran (12), Eretria (five) and Somalia.
"Victims of xenophobia and accused of being Muslim Brotherhood supporters in Egypt, interrogated and threatened by the security services in Jordan, and threatened by pro-Assad militias in Lebanon, their situation often continues to be extremely precarious," says RSF describing the life of exiled journalists.
In view of their situation Deloire speaking at the UN proposed, "[t]here is still no appropriate mechanism for protecting news providers and human rights defenders who are forced to flee their country. [RSF], which supports hundreds of exile journalists every year, is therefore urging the UN and member states to promote procedures for protecting and resettling news providers and human rights defenders who are in danger in transit countries."
(Tomorrow: journalists in detention)