Protesting internet censorship in Ankara (Pic. hurriyetdailynews.com)
On Wednesday, February 5, Turkey adopted Law 5651 that imposes greater restrictions on an already stifled media. During its passage through parliament, the bill came under fire from the opposition and was later criticised by sections of Turkey's business community and the European Parliament. Notwithstanding that, the new reality in Turkey will be government agencies authorised to block websites without a judicial order and carry out surveillance through deep packet inspection.
AFPquoted Bilgi University's law professor, Yaman Akdeniz saying the powers given to the Telecommunications Communications Presidency (TIB) as "Orwellian" and that the measures will "move Turkey away from the European Union in terms of Internet policy, perhaps a few steps closer to China."
The AFP report included reactions from European regional organisations OESC and the European Union: "Dutch MEP [member of the European Parliament] Marietje Schaake said that in Turkey's EU accession talks, Brussels needed to tell Ankara such legislation is 'unacceptable' and that 'the rule of law and fundamental freedoms are at the centre of EU policy.'"
Prime Minister Tyyip Erdogan and his government have been facing mounting protests against repression and corruption. Last year Turkey violently suppressed a popular protest in Istanbul's Gezi Park that saw six deaths. Later last year the media highlighted stories of large-scale corruption that implicated senior politician in the government party. On both issues Erdogan blamed the media – especially the social media – of spreading falsehood and creating unrest. He said during the Gezi Park crisis, "There is a problem called Twitter right now and you can find every kind of lie there."
"Erdogan, Turkey's all-powerful leader since 2003 is openly suspicious of the Internet, branding Twitter a "menace" for helping organise mass nationwide protests in June in which, six people died and thousands injured," says AFP.
"Social media was not Erdogan's biggest problem. His biggest problem was that citizens whose lives and nation harmed by his rule, were fighting back, and they had found an effective medium through which to organise and express their protest. Twitter was the problem because its users had identified Erdogan as the problem," writes Sarah Kendzior, who writes on politics and the media in a post to Al-Jazira.
Kendzior says that when the powerful condemn the medium it is the marginalised messenger they are after. "It is a tactic reminiscent of dictators facing a challenge to power: Target the medium, slander the messenger, ignore the message."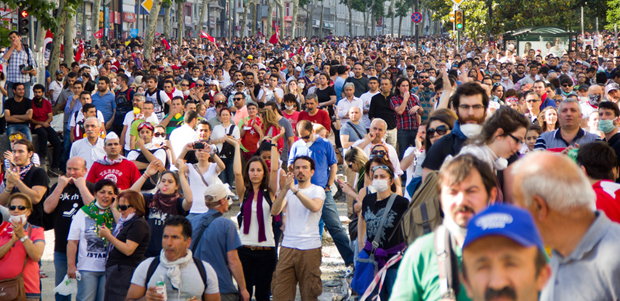 Demonstrations at Gezi Park (Pic courtesy Index on Censorship)
Turkish author and playwright Meltem Arikan who has campaigned long and hard against patriarchy, in an essay and interview with Index on Censorship (IoC) highlights the role of the artist in resisting repression to bring about democratic change, and the part played by social media in that transition.
Arikan was charged as one of the conspirators behind the citizen protests last year in Gezi Park by senior Turkish officials. Her essay, written after she fled into exile in the UK, is in the form of a journal. It highlights Turkish mainstream media wilfully ignoring the people's outrage expressed by people 'occupying' the park, which the more nimble social media – especially twitter – is able to outwit. As interesting are the slogans and graffiti on the walls scrawled by protestors brought face-to-face with officialdom armed with pepper spray and tear gas.
"They learned a valuable lesson — censoring the media had not prevented the people from finding out what was going on. In fact it had the opposite effect. It spawned thousands of new social media users, who understood — some for the first time — what young people have known all their lives, that new media has transformed the way we share and access information and ideas," Arikan writes.
Click hereto read the essay
In the interview with IoC's Julia Farrington, Arikan speaks about her play Mi Minor which not only discusses democratisation by challenging the established, oppressive, patriarchal order though social media, but also engages the audience through role playing and the social media.
"During the play the audience could choose to play the President's deMOCKracy game of the, or support the Pianist's rebellion against the, system. The Pianist starts reporting all the things that are happening in Pinima through Twitter, which starts a Role Playing Game (RPG) with the audience. Mi Minor was staged as a play where an actual and social media oriented RPG was integrated with the actual performance. It was the first play of its kind in the world," she says.
Click hereto read the full interview
Twitter's Dick Costollo (Business Insider)
Days before US President Barack Obama outlined new steps his government hoped to take to minimise surveillance by the government spy agencies on US citizens and people overseas, an internet freedom monitor scored different tech companies on how well they had protected private citizens from government.
"When it comes to how Internet companies protect people when the government asks for data, Twitter wins," says Business Insider of a survey done by the Electronic Frontier Foundation (EFF).
Among the matters Obama addressed in his speech, Friday, was that of NSA issuing national security letters, which is an administrative subpoena to compel tech companies to hand over their records. It is significant that among the reforms the president proposed were that tech companies will not be subjected to an indefinite gag order to which they are now bound. But whereas the White House review panel recommended letters would require the approval of courts before they are issued, that was not accepted.
But well before the US administration announced its new policy on the letters (and other matters), Twitter was one of two companies surveyed by EFF that had scored big on six criteria used to evaluate how internet companies protect peoples' privacy. The criteria include asking for a warrant before handing over records, fighting for users' privacy rights in courts and championing for users' privacy rights in Congress.
"Of the companies listed in the report's summary, only two earned a 'star' for all six categories: Twitter and a company called Sonic.net, the EEF said. Sonic.net is a company based in Santa Rosa, Calif. that provides people with Internet access," says Julie Bort for Business Insider.
"In this annual report, the Electronic Frontier Foundation examined the policies of major Internet companies … to assess whether they publicly commit to standing with users when the government seeks access to user data. The purpose of this report is to incentivize companies to be transparent about how data flows to the government and encourage them to take a stand for user privacy whenever it is possible to do so," explained EFF in an Executive Summary of the report.
"So that means that Twitter outscored companies like Dropbox, Google and LinkedIn, though those companies also did well in the report. A few, like Amazon, Apple, Yahoo and Facebook, didn't score so well," commented Business Insider.
President Hassan Rouhani
As social media becomes popular in repressive societies with pro-democracy activists using it as a platform in their confrontation with governments, autocrats too have been quick to learn the use of such technology to push forward their version of things and regime propaganda.
An initiative that gained much publicity recently was Iran's newly-elected leader President Hassan Rouhani wishing Rosh Hashanah on twitter. Although there is some confusion as to whether he actually tweeted Jewish New Year greetings (Wall Street Journal reported he had not), the political implications of autocratic regimes messaging using twitter was featured in a recent article in the New Republic.
"I don't want to rain on anyone's New Year's parade, but it's worth pointing out that Twitter hasn't reformed the other unsavory political leaders who have used it as a mouthpiece," writes Nora Caplan-Bricker.
You can access the article here
Ever since it made its mark on the social activism stage with a starring role in the Moldova "Twitter Revolution" and the post-election riots in Iran, Twitter has secured its place as a valuable tool in organizing, information sharing, and activism.
And this handy form of social media isn't just useful when you find yourself in the middle of a revolution, there are plenty of ways to use Twitter to get involved in a cause from the comfort of you couch. Yes, mobilization can happen even while wearing a Snuggie.
The first step to getting involved in 140 characters or less is to follow the right people, namely those interested in a similar cause. This extensive list of the top human rights activists is a great place to start. At www.WeFollow.com you can browse the top tweeters in categories like "Activist" and even sort them by the city. You can also follow us and see who we're following at http://twitter.com/pmaward.
Next, set a personal goal to tweet about a human rights issue or a link to a story at least once a week (as Change.org's Amanda Kloer suggests). Share a fun fact or a recent news story, re-tweet someone's cause, or encourage others to join in. Whether it be spreading the word about free speech violations, jailed journalists, or the good work of others, persuade your followers to do what they can to help.
Artist and Poet Laureate Larry Jaffe tweeted the Declaration of Human Rights 140 characters at a time on his twitter account. Jaffe is the first to admit he is no Twitter expert, but one tip he has is to use the platform to connect with people. "Despite the appearance that Twitter is a 'broadcast' medium, it really is full of rich emotional interaction," Jaffe says. "Change happens one person at a time even if you are engaging in a dialog of thousands, you still have to connect."
And the ultimate form of connecting is collaborating with your fellow Twitterers. Collaboration is really the key to putting the social in your social media activism. Use hashtags to organize tweets about a certain topic or event and join groups so others can find your account. Once you have organized a network with your Twitter peers, it's up to you to decide where and how far you want to take it.
Christian Kreutz at CrissCrossed points out that although social media sites can easily remain a place mainly for leisure, they also have the potential to harness the power of mass collaboration. And for an idea of what that could look like, think to the campaign against FARC in Columbia that lead to mass rallies, or the campaign in Estonia that lead to a 50,000 person turnout to clean up the entire country in a day.
Inspired yet? Click here to start tweeting.

Credit: Flickr, respres