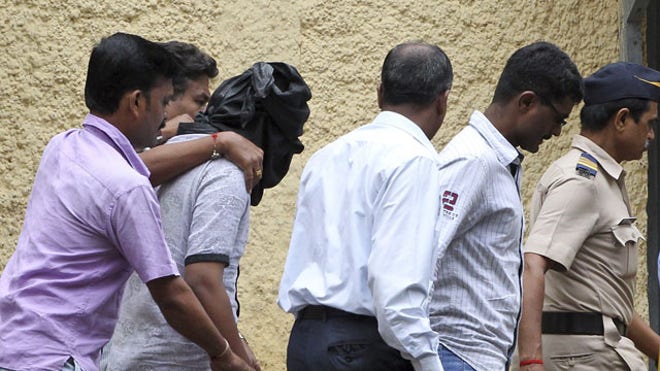 Accused in the Mumbai rape of photojournalist (Photo courtesy Fox News)
The rape of a 22-year-old trainee photojournalist of an English-language magazine in Mumbai, India on Thursday, August 22, has reignited concern of the use rape as weapon to silence journalists who are on reporting assignments in lonely and hostile environments.
In situations of armed conflict rape is declared a war crime used by perpetrators with a definite objective in mind – as a form of terrorising individuals and populations into submission. In certain conflicts, journalists, especially women, are raped not only because of their professional role, but also they belong to an ethnic, or tribal or political group that the opposing force is targeting.
"Many of the assaults fall into three general types: targeted sexual violation of specific journalists, often in reprisal for their work; mob-related sexual violence against journalists covering public events; and sexual abuse of journalists in detention or captivity," writes Lauren Wolfe in 'The silencing crime: Sexual violence and journalists.' The report was written for the New York-based Committee to Protect Journalists (CPJ) in June 2011.
Under this three-fold categorisation, the case of the photojournalist from Mumbai appears to be targeted sexual violation as reprisal for her work.
"The authorities must do everything possible to identify and arrest those responsible for this crime and bring them to trial. They must also guarantee the safety of journalists and ensure that this form of attack, one of the worst banes of Indian society, does not recur," said the Paris-based Reporters without Borders (RSF) in a statement.
Five suspects have been arrested by the Mumbai police following the survivor's description BBC reported. It quoted the Press Trust of India that the outrage has caused India's Maharashtra State Chief Minister Prithviraj Chavan to announce, "The case will be tried in a fast-track court to ensure speedy justice to the victim."
The incident happened when the photojournalist went with a male colleague to an abandoned mill in the city on a photo-shoot. According to RSF the two were confronted by the gang which had accused them of trespassing on private property. The man was also reportedly assaulted and secured by the attackers.
As always, horrendous incidents like this bring up memories of similar incidents. One such is the rape of a Dutchwoman on June 27, while she was photographing events at Tahrir square, Egypt. But since the person was not identified it is not known if she was a journalist.
What however is a ray of hope in an otherwise miserable business is the young photojournalist's defiance. The BBC said, "The victim, who is in hospital with multiple injuries, has said she is anxious to return to work after the attack. 'Rape is not the end of life. I want the strictest punishment for all the accused,' she said."
It was the same defiance that ultimately persuaded Jineth Bedoya, who was raped by rightwing paramilitaries in Colombia while reporting for El Espectador in May 2000. According to CPJ, it had taken Bedoya nine years to speak out about the ordeal she underwent.
"Since she began speaking out, Bedoya said, she has encountered a number of journalists—from Colombia to the United States to Europe—who had been raped or sexually abused but chose to stay quiet because of cultural and professional stigmas. By making her own case more visible, Bedoya said, she hopes to encourage these journalists to 'denounce what's happened to them and be able to ask for justice,'" said Wolfe in the CPJ report.
Wolfe concludes: "Sexual attacks against journalists have the effect of silencing the messenger and blocking the dissemination of news and information. In the same manner as other types of attacks, sexual aggression is a direct assault on the internationally guaranteed rights to freedom of expression and access to information."
But the survivor of the Mumbai rape incident, Bedoya and a number of other female and male journalists who are speaking out about their experiences and denouncing the perpetrators might, hopefully, be the beginnings of change.