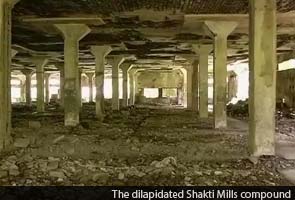 The Deserted Mill in Mumbai (Pic. courtesy NDTV)
The Indian photojournalist gang-raped while on assignment in Mumbai on August 23, fainted while giving evidence, Thursday, after identifying all four accused. BBC quoted Special Prosecutor Ujjwal Nikim telling reporters that she was "composed but 'under mental pressure.'"
The Indian news website DNAsaid, "'The rape survivor fainted during the deposition after which we stopped the proceedings and I requested the court that she be referred for medical help,' special public prosecutor Ujjwal Nikam told PTI."
The gang rape took place in an abandoned mill in Mumbai, where the survivor who interned for an English-language magazine and a male colleague had gone on assignment. The man was tied up before the woman was raped. Five persons were arrested of whom four stand trial in the court, while the fifth is being tried in a juvenile court. [See more details here]
The Mumbai episode followed the much-publicised incident in New Delhi in December, where a woman was gang-raped and killed when she was pushed off a moving bus. Following the outrage it created, the Indian government strengthened laws against sexual violence. Four persons convicted in September for the New Delhi crime were sentenced to death.
Both the BBC and DNA said, quoting the public prosecutor that the photojournalist had also identified pornographic video shown by her assailants during the assault.
On October 15, the Delhi-based NDTVquoted Nikam as saying the survivor's mother and "boss," (presumably the head of the organisation for which the survivor worked) had deposed in court.
"The accused Vijay Jadhav, Kasim Bengali, Salim Ansari and Siraj Rehman have been charged with rape, conspiracy, common intention, unnatural sex and charges under Information Technology Act. The Mumbai crime branch had on September 19 filed a 600-page charge sheet against the four accused," said DNA.
Both DNA and NDTV said three of the four accused in the case were also accused of another rape at the same place on July 31.