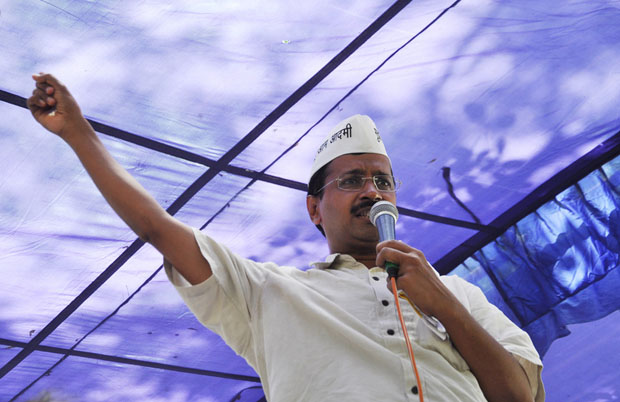 Arvind Kejriwal on the campaign trail (Pic Index on Censorship)
"A big challenge for 2014 will be to utilize new tools and tactics for positive change – while reining in the efforts of those who are thinking just as hard about how to use tech to steal, spy or stifle dissent," writes Human Rights Watch's director, communications Emma Daly in a piece in CNN.
In 'Why tech is a double-edged sword for human rights' Daly catalogues a series of events in which the use of technology has either helped or hindered upholding of human rights. Leading the rest of course was digital technology: "The technological advances that enabled the Arab Spring and empowered citizen journalists were exposed as facilitating unfettered surveillance worldwide and outstripping legal protections. We learned that Big Brother, a standby of totalitarian regimes, is also operating in Washington DC."
But two articles in Index on Censorship (IoC) website, one dated November 21 and the other January 6, are a vivid demonstration on how moderately repressive governments attempting to stifle the free flow of information (unlike those that are outright totalitarian) fight a losing battle when they try to impose censorship by controlling the internet.
In her research paper 'India: digital freedom under threat?' published in IoC, Melody Patry writes about the stifling of independent voices on the internet in India through harsh regulations and shadowy threats. She says, "India is the world's largest democracy and protects free speech in its laws and constitution. Yet, freedom of expression in the online sphere is increasingly being restricted in India for a number of reasons- including defamation, the maintenance of national security and communal harmony, which are chilling the free flow of information and ideas. Many of the most restrictive laws and technical means used to enforce these restrictions are recent developments that have undermined India's record on freedom of expression."
But in less than two months another story on the same website shows only too clearly that the internet remains a magnet to those who want to use it for political messaging. In his post 'India: social media finally has its campaign in the sun,' Mahima Kaul argues how Aravind Kejriwal of the Aam Adam Party, the latest political sensation in India, defeated three times chief minister of New Delhi veteran Sheila Dixit on an anti-corruption platform, partly through the adroit use of social media.
"The Aam Aadmi Party and Arvind Kejriwal have certainly cornered the market on becoming heroes for promises made, aided by a masterful communication strategy. But there is more to this. Indians – residents of New Delhi – finally were able to participate in the interactive social media political campaign that they had previously only read about. The promise of an active democracy where the political leaders don't just dictate terms but actually solicit and respond to the common man is too tempting an offer to ignore."
This does not mean that Indian government officials and politicians who are paranoid about national security issues either from within India or outside, will not try enforcing restrictions citing security considerations. Worse, if citizen journalism and digital technology successfully challenges corruption which is Kejriwal's goal, there will be concerted moves to stifle internet freedom. But once politicians following Kejriwal's lead realise they are generally better served by an open internet than a censored one, it will be very difficult to apply restraints. It is only by such small, (selfish) incremental beginnings that freedom of information is strengthened.